Twinkle Khanna, Dimple Kapadia, Abu Jani, Shraddha Nigam, Mayank Anand at the launch of FANTASTIQUE by Abu Sandeep on 15th July 2016 . KICHU by Kichu Dandiya unveiled her latest fashion jewellery collection RAWRR at FANTASTIQUE by Abu Sandeep on 15th July 2015 at their store in Colaba. Mayank Anand Shraddha Nigam and Verandah by Anjali also previewed their latest collections, exclusively available at the store.
The launch was hosted by Abu Jani and CEO Saudamini Mattu along with designers Kichu Dandiya, Mayank Anand Shraddha Nigam, and Anjali Patel Mehta. Present were clients, friends and locals such as Dimple Kapadia, Twinkle Khanna, Ram Shergill, Divya Thakur and many more to share their support towards the new designer label KICHU.
KICHU is a young jewellery brand that aims at producing high quality, well finished products, to be worn every day, for the well-travelled. The style is a narrative in contrast, where inspiration is drawn from various ethnicities and finds expression in a visually modern concept. Highly appreciative of traditional cultures as well as modern and urban societies and not bound by social fads, KICHU's mission is to be ever-changing and always evolving.
Twinkle Khanna
KICHU's latest collection RAWRR is inspired by forms of Wildlife. The aesthetics are minimal, yet bold and impactful. From using silhouettes of animals to forging real shark's tooth, KICHU employs a smorgasbord of unexpected elements to create highly original work. Each piece is made of casted solid brass that is then plated with gold.
"Because the everyday need never be Ordinary" shared Kichu Dandiya.
"Its a joy to see distinctive, original design find form in such outrageously spirited and soulful jewellery. We are delighted to welcome KICHU to FANTASTIQUE!" shared the duo- Abu Jani & Sandeep Khosla.
Shraddha Nigam
Mayank
Launch Events
Dimple Kapadia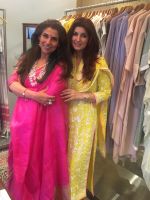 Abu Jani
Mayank Anand & Shraddha Nigam's latest collection Nosegay has as its core inspiration- a small bouquet of sweet scented, wild flowers. This mid-season release from Mayank Anand Shraddha Nigam is in pastel hues of rose pink, mint green, buttercup yellow and daisy white. The breezy romance of the Monsoon results in silhouettes that are relaxed and minimally embellished. The collection is highlighted with the use of cotton mesh in drapes and Madras checks in construction. Innovative separates from this collection can be dressed up for a brunch or an evening out.
Verandah by Anjali's new collection The Linen Edit, comprises of classic, local, woven, deconstructed and ultra-soft silhouettes in their signature style. The label has designed a classic, year round linen edit in easy to wear, fuss free silhouettes for the contemporary Urban Indian in you. Inspired by the love of comfort, Bohemia and eternally chic urban traveler, Verandah offers a custom monogram on every piece. With a gentle foray into Menswear, they introduce this collection to wear out everyday, on a Sunday or pack with on your perfect weekend getaway.
Available At:
FANTASTIQUE
Store No. 3, Battery Street,
Apollo Bunder, opposite The Gordon House Hotel,
Colaba, Mumbai, 400 039
Timings: 10.00 am – 7:00 pm
Tel: 022 22855391 / 392 / +91 992002 4391
Social Media- Instagram: @fantastique.by.abusandeep