The most popular man with the ladies of the Bigg Boss house, Upen Patel found himself ousted from the show in a surprise mid-week eviction in the final week of Bigg Boss Season 8. Having spent more than 100 days inside the house, Upen's eviction came as a surprise to not only him but also to his fellow contestants who were certain about the actor's fan-following. An otherwise calm and composed Upen Patel, had recently shocked viewers with his very vocal behavior which he claimed was a result of bottling up his feelings over the past 15 weeks.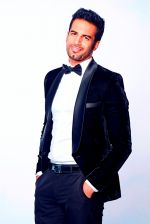 Upen was the lady charmer of Bigg Boss Season 8. Be it ex-contestants, Soni Singh, Minissha Lamba, Natasa Stankovic, Deepshika and Diandra Soares or contestant Karishma Tanna who he left behind inside the Bigg Boss house upon his exit, Upen was adored by them all. Upen appeared to be quite patient and grounded until his now infamous showdown with Gautam Gulati inside the confessions room. As he stormed outside the room and refused to hear any voice of reason, Upen shocked not only Gautam but all the other housemates with his sheer disobedience towards his house duties. Following his outburst, Upen also had fallouts with his friends Ali and Dimpy who had supported him during his stay in the house. However, at the end of the day, Upen's untimely exit in a coffin being carried out by grim reapers at midnight shocked everyone in the house – be it friend or foe! Interestingly, Upen entered the Bigg Boss house by dramatically flying down while being tied to a parachute and his exit was equally intense bringing in the twist of a mid-week eviction.
While most praised Upen for his grounded demeanour, he was often labelled as 'cursed' because his friends inside the house often found themselves prematurely eliminated from the show. And if this was not enough, his attempts to stand up for his friends also earned him flak because he failed to see reason and would take to being unreasonable at times as well. And the one person he often stood for was his best friend on the show – Karishma Tanna. Upen cared deeply for Karishma and he showcased this sentiment during multiple tasks.
As Upen leaves the Bigg Boss house to go to his family and loved ones, he leaves behind his best friend in the Bigg Boss house who he prays would emerge victorious. We wish him luck and hope that all his prayers are answered!
Upen Patel