Arshad Warsi, the actor who is debuting as judge in Sony's Dance Premier League was absent during the press conference of the show which was recently held in Mumbai.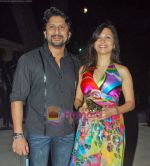 Rani Mukherjee too was late for the event and the excuse that she gave was the traffic due to the rally for elections which are coming soon. Same was the case with Arshad it seems.
"Arshad could not attend the event as he is stuck in some political rally,"
was the answer that we got from the channel. At least the actress turned in for the event but poor Arshad couldn't make it till the end.
But Arshad we were wondering of whether you were the part of the rally or not. This was not specified to the media. Whatever the case may be we just think that you are better as an actor; isn't it?
–Rachana Trivedi