On Monday, Shah Rukh Khan, Imtiaz Ali and Anushka Sharma launched their second song 'Beech beech Mein' which is a club song from their upcoming film Jab Harry Met Sejal in a club called 'Tamasha' in Mumbai.
Talking about working with Shah Rukh Khan with for the very first time, he said, "It was greatest experience to work with Shah Rukh. He is the most gracious, funny and passionate person, filmmaker and friend that anyone can ask for. It's his kindness, the film has turned out well. I am very happy that after such long time, I got the chance to work with Shah Rukh. I hope, I have been able to justify the huge talent that man is. And as far as Anushka is concerned, I have been admirer of her for longest time. I was waiting for the day to work with her and now I have so it's a nice feeling altogether".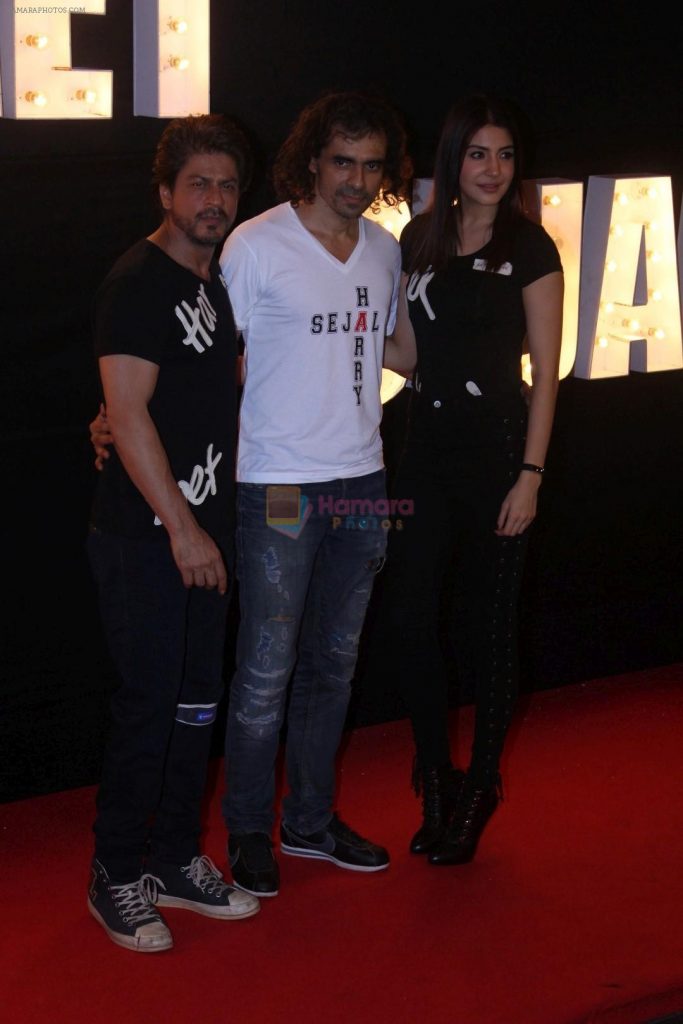 Earlier, in an interview, Shah Rukh was all praise for Imtiaz when stated that Imtiaz reminds me of Yash Chopra all because Imtiaz Ali's knack for telling love stories, affinity for travel and penchant for adding a touch of Punjab to his films is reminiscent of the late film-maker Yash Chopra, to that, Imtiaz said, "to be get compared with Yash Chopra is a matter of unbelievable pride and also matter of embarrassment and humiliation because in my eyes, I stand nowhere in comparison with him. I would never says that I have any quality that resembles Yash Chopra because for me, he is huge legend and I think just my name taken in the same sentence with Yash Chopra will make my family proud".
Talking about the song Beech Beech Mein, he said, "I am very excited for this song. We have already released one song titled Radha and now we are launching our new song Beech Beech Mein. This song also comes in the middle of the film. I am looking forward to see how people respond to his song. This is new disco club kind of a song so it was appropriate that to launch it at club and we are very happy to launch it at Tamasha."
He also spoke about reception his film's mini trails are getting from the audience, he said, "I happy that audience are liking our promos. We started to show mini trails of the film instead of trailer. It s like small pocket of entertainment and from that people will get idea about the characters and the film."
Imtiaz also talked about Ranbir Kapoor's upcoming film, Jagga Jasoos, he said, "I am very excited and almost nervous about the prospect of Jagga Jasoos. I will be there first day first show to watch Jagga Jasoos and I wish everybody does because it has hugely talented director and actor coming together".
Earlier, Pahlaj Nihalani, CBFC chief had asked Mirror Now to get one lakh votes to get the word 'intercourse' cleared from the promos of Shah Rukh Khan-Anushka Sharma-starrer film Jab Harry Met Sejal and people have voted in favor of the film, talking about that Imtiaz said, "I know that censor board obviously has to perform their duties and when they will see our film then I think they will not have any objection with it".
Imtiaz also collaborating with music composer Pritam after long period of time with this film. Ear