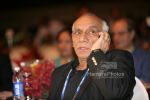 New Delhi, July 5 (IANS) With posters of some of his blockbuster films like "Silsila", "Deewaar", "Lamhe" and "Dil To Pagal Hai" forming the backdrop, legendary Bollywood filmmaker Yash Chopra was conferred the Legion d'Honneur, France's highest civilian award, at a ceremony here Saturday. "It is truly a joy to be awarding this medal to the master of Indian cinema, Yash Chopra. He has a truly universal form of art and the man is a mark of artistic distinction," French Ambassador Jerome Bonnafont said.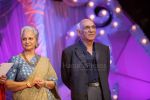 "The French government has recognised his outstanding achievement in the world of Indian cinema," he added. The director, who has produced and directed many landmark films in his career spanning almost five decades, has joined the league of Indians like film director Satyajit Ray, sitar maestro Ravi Shankar, melody queen Lata Mangeshkar and actor Amitabh Bachchan in being honoured by the French government.
The ambassador pinned the medal on Chopra on behalf of President Nicolas Sarkozy at an official ceremony at the French embassy. Chopra said: "I thank President Sarkozy for considering me worthy of this honour. This will be a cherished memory and will be with me forever. Fifty-six years back, I used to walk barefoot in Punjab with dreams that I will become a big man some day. But it is only one person who made my dream possible – my brother, guardian and friend B.R. Chopra.
"He brought me to Mumbai and taught me everything. And if there is someone who I am missing today, it is he. He could unfortunately not be here because he is unwell." Chopra's wife Pamela was present at the ceremony but his sons Aditya and Uday were conspicious by their absence. Chopra suggested various ways in which the Indian and French governments could promote cinematic exchange between the two countries.
"We love French cinema and we don't get to see much of it here. So I request His Excellency to do something so that we can release our films there with French subtitles and vice versa," said Chopra, who heads Yash Raj Films, one of India's largest production houses. Before the ceremony, a 30-minute audio-visual presentation traced Chopra's glittering career. It included visuals as well as some of the best songs from his films.
There were also sound bytes of Lata Mangeshkar, Amitabh Bachchan, Shah Rukh Khan, Preity Zinta, Aishwarya Rai, Kajol, Madhuri Dixit, Hrithik Roshan, Rani Mukerji and Karisma Kapoor – all of whom have been closely associated with Chopra in one film or the other.