Entertainment Ke Liye Aur Bhi Kuch Karega, has concludes last week. This time the second season of the show was quite short and the same time slot now will be taken over by Balaji's two new show which start from tomorrow and day after respectively.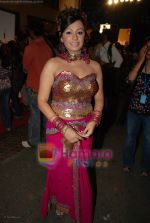 But today there will be a special screening on Entertainment where no body will be judged. "In today's episode audience will see the special dance performance by Hussain Kuwjerwala and Ashita Dhawan in the show. There are no judges and the show will also see the participants as they entertain the audience with their humours stints," states the source.
"It's a filler slot as the Balaji's two shows are starting from tomorrow. The channel could not keep the slot empty thus they have planned for the special episode of the show," adds the source.
No judges on the show! "As there is no need of judgment on the show so one will be missing the comments from Farah Khan and Anu Malik as they will not be present for the episode. With that Mona Singh and Vishal Malhotra finally show their skills through dancing their way out on stage," concludes the source.
So are you ready for the last glance of your favourite show as they entertain you tonight at 10:00 pm on Sony TV.
-Rachana Trivedi/ Sampurn Media