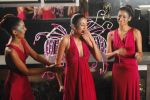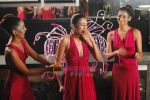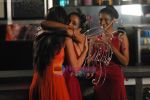 If it's bitchy, if it's sexy and, if it's naughty…it's got to be Channel [V]'s launch pad for aspiring models across the country – Get Gorgeous. As a 5th phenomenal season drew to a close last night, one exotic butterfly fluttered to the nectar, proclaiming victory to one and all.
Iris Maity, amid much fanfare and regalia, was crowned Get Gorgeous 2008 when Pia Trivedi placed the coveted butterfly behind her. The beautiful and graceful Iris was stupefied and did a classical imitation of a beauty pageant winner in full ishtyle. The moment almost single-handedly marked the completion of her transition from the pretty girl next door to supermodel/actor.
The winner announcement was preceded by a soiree which included a fashion show exhibiting designer duo Rahul Khanna and Rohit Gandhi's latest line designed exclusively for the 'gorgeous' girls. The evening witnessed a host of celebrities like Rocky S. Narendra Kumar Ahmed, Hard Kaur, Koel Puri, Nandini Jumaani and the hot and very sexy, Kelly Dorjee, to name a few.
After Mumbai, Kerala and Paris, Iris, along with the other two finalists, Gwen and Salome, returned to Mumbai to claim the title. When asked to comment on her experience on the show, Iris, gushing with excitement said, "While I never doubted my abilities, never in my wildest dreams did I imagine that I'd actually win. This has been a tremendous learning experience for me. I can't thank Channel [V] enough for providing me with this platform to go ahead and realise my dreams." As winner of Channel [V] Get Gorgeous 5, Iris walks away with a neat Rs. 1 million contract with Channel [V] and ICE Model Management.