Kamya Punjabi who got to fame with Dulhann has delivered a baby girl yesterday. The family which waited for this moment since long time at last had a sight of happiness. We called up Kamya to know about her health and received a reply from her sister.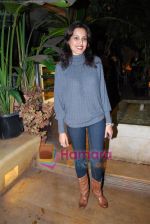 Kamya's sister replied,
"We all are happy for the baby girl and the pleasure cannot be expressed in few words, phones are continuously ringing on for the wishes and that's why I have to attend them all as Kamya cannot do so,"
"Even if both mother and daughter are doing well, it will take some time to recover,"
she further replied. When is the Naamkaran planned on?
"No, not yet as both of them are still in progress to recover, but will be very soon,"
Kamya's sister quips.
We congratulate Punjabi family for the new member arrival.
–Tejashree Bhopatkar