We are talking about Bharti of Bhaskar Bharti, Ragini Khanna who is back on the sets after her 3 days of official holidays. The actress has been keeping unwell and was advised rest.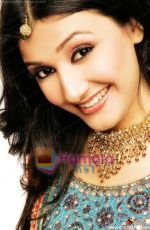 "I was recently admitted in the hospital for a day due to dehydration but now I'm fine and am reporting on the sets today,"
said Ragini.
Elaborating more on her condition she explains,
"I am fine now and is eagerly waiting to hit back to the sets. I got official holiday after 6 months of this hectic shooting schedule."
"In these three days I have gather myself and do feel more energetic. I am just waiting to go on the sets and start with the shoot,"
she concludes.
Well this is the story of every protagonist in daily soaps.
–Rachana Trivedi