Shabana Azmi features in a cameo in Anil Kapoor's upcoming TV production "24", and she admits she agreed to the role only because of Anil Kapoor.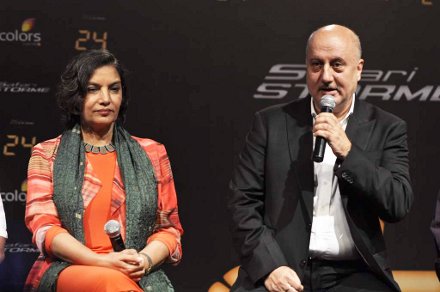 When asked how Anil Kapoor managed to convince her for the role in the forthcoming TV show, Shabana said:
I was happy to do '24' because of Anil Kapoor, Anil Kapoor, Anil Kapoor. I have always associated Anil Kapoor with excellence, quality."
Shabana Azmi was fascinated to see the same passion and dedication in Anil Kapoor that she first saw in him 30 years back. She said, here in an event:
He has been a very dear friend for years now and I was fascinated to see the same dedication, sincerity and passion in him that I saw when I first worked with him in the movie 'Ek Baar Kaho' 30 years back. You are an inspiration Anil, it was an absolute pleasure.
In "24", Anil Kapoor plays the lead role of Jai Singh Rathod, chief of anti-terrorist Unit of India.
Meanwhile, Shabana Azmi also said that director Abhinay Deo made her slog for two days for the show.
The way Abhinay Deo made me work in two days, I felt like, 'Where have I got myself stuck?' He was always smiling and said, 'Ma'am, it's okay'
Shabana Azmi, who has been in the industry for almost four decades,  says the show also offered her a role she had neither played in a movie nor in a play.
But the fact is I enjoyed it a lot. The kind of character Abhilasha Grewal is, I have never done such a character either in theatre or films. It is a cameo and she is a no-nonsense woman and will stop at nothing to get what she wants.
"24" will air on Colors TV starting Oct 4.