Yes you have heard it right, Navjot Singh Sidhu and Rajesh Khanna more famously known as Kaka will be soon entering in Bigg Boss3. Though both of them is yet to confirm about their presence in the show.
"Siddhu's name has been popped out to become one of the contestants of Bigg Boss 3. His humour may keep every one entertaining and happy. While Kaka is also tipped to be in the Bigg Boss interacting with Big B and the inmates,"
chirps the khabroo.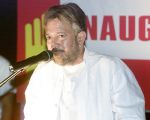 Rajesh Khanna and Big B had some issues in the past.
"This can create some rift between the two actors in the show. The channel is planning to cash on that too. Though he is yet to confirm about his presence in the show but if the other sources are to be believed he will be there in the show,"
quips the source
"About Sidhu, even he is to be confirmed as the next season of Laughter Challenge is soon to start. Though channel is keen on having him to bring some humours touch which will also help other contestants in the show,"
concludes the informer.
So now one needs to wait and watch for who is in and out of the Bigg Boss house. Well it will be definitely interesting to watch Kaka in the house… Isn't it?
–Rachana Trivedi