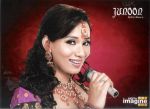 This singer Kalpana is making it big in the small screen. She is one of the strong contender of NDTV IMAGINE's new musical reality show JUNOON…..Kuchh Kar Dikhaane Ka! Kalpana represents the folk team "Maati Ke Laal", presenting folk songs from UP/Bihar/ Assam. The show started with a very grand opening by dashing ever charming talented actor Hritik Roshan. Hritik's presence in the show revealed the glamour of the show. The show is hosted by none other than the legend of silver screen Annu Kapoor. His presence shows the deftness of the show.
Illa Arun represented Kalpana from folk group as Triveni of river Bhramaputra and Ganga as she has taken the responsibility of three states-UP, Bihar & Assam. Kalpana's performance of bihu of Assam was the greatest hit. She was asked by Illa Arun to sing Bhupen Hazarika's hit song Manuhe Manuhor Babe and got great applaud from the judges and the audience.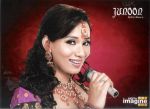 Says Kalpana, I am from northeast, ASSAM. Northeast is a reservoir of talent but it hurts when people consider the region different from India. She feels that north-eastern India is a reservoir of talent but it has not been given due recognition because the region suffers from a sense of geographical and social alienation. She is 'hurt' that many people do not consider the northeast as a part of India.
For example, in the television music talent hunt reality shows contestants from our region do well. And the nation must realise that they (participants) reach there because of their talent, not favoritism. I want the rest of the country to cherish it, but respect for the region is lacking,' KALPANA told.
Kalpana holds the local residents equally responsible. 'Talents from the region are not being recognised. To a certain extent, we (northeast residents) are also responsible for it because we don't remind them about our potential. But without any support she made it big in Mumbai film industry. She has truly confirmed that language has no barrier. It would be injustice to put a tag (Bhojpuri Singer) on Kalpana. If we correctly analyze she can really sing in different languages.
Says Kalpana, I had no support or godfather in Mumbai. But thanks to the people of UP & BIHAR who gave me full support and made Kalpana a big name in Bhojpuri music industry. She says, today with this show JUNOON people are getting to know the richness of Bhojpuri music. I wish if Laluji extend his best wishes & moral support to promote Bhojpuri as he is the only international super star.
Kalpana's get up, her performance, her confidence and above all her signing in the show is mind-blowing. She is the most versatile singer. What a tremendous power & performance Kalpana has. Kalpana, you are a very big bridge in between Assam & Bhojpuri. You are the voice of 16 lakh Bhojpuri speaking people. I some times suspect that how u pronounces such good Bhojpuri language. Anyways keep it up… I pray God to make you NDTV's Junoon Champ. All the mentors including Annu Kapoor ended up with commenting Kalpana as a complete package of performance & singing.
— Ashok Bhatia