The serial of Star Plus, Kis Desh Mein Hai Meraa Dil was experiencing their good days again. The love saga of Heer (Additi Gupta) and Prem (Harshad Chopra) was flowering but with the new entry of a girl child named Sneha (Chinki), who calls Prem as her father has brought a storm in the life of the couple. Now the question that goes round in the mind is that who is this girl?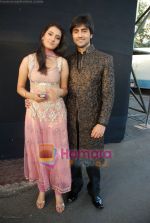 Our khabroo informs, "Sneha is the illegitimate daughter of Prem and Ashlesha Mann (Mihika Verma). Six years back, it was Ashlesha due to which Heer and Prem got separated but now she has re-entered the show with her daughter Sneha, who is also 6 years old as same as the age of Chahat, daughter of Heer and Prem."
"It has been telecasted in the serial that Sneha calls Prem as her 'papa' because she don't have her papa and this annoys Prem. But the curtain from the dark secret of Prem is yet to be revealed in the serial," source added.
There will be lot more masala in the coming episodes as Prem will be stunned by his own deed and Additi's rage will be spectacular, isn't it?
Tejashree Bhopatkar/ Sampurn Media