Priyanka Mishra aka Vishaka of Chhoti Bahu who always dreamed of becoming a successful actress, re-enters as her dream comes true for which she was waiting since long time.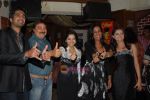 "Vishaka is going to make her entry in the serial as a successful superstar and will be coming with her stardom. At the time when all the family members are annoyed with her, she will try to console them as she has achieved what she always wanted in her life,"
chirps the little birdie.
Elaborating more on her new outlook and behavior, our source further informs,
"Vishaka will no more create any grudges for Dev (Avinash Sachdev) and Radhika (Rubina Dilaik) and will be least bother about her relationship as she never loved Dev."
"So, she will be quit happy for the duo and will be participating in the preparations of marraige. Also audience will be seeing her in a new avatar which has positive shades. But her entry will create more drama and friction for the marriage of Radhika with Dev by the family members,"
khabroo concludes the conversation.
We called up Priyanka to know more about it and she informs,
"Yes I am back as a star but at the same time happy for Dev and Radhika because I have reached my goal which was more important for me than any other thing and will happily attend the marriage ceremony of Dev-Radhika."
At last Vishaka had got what she always wanted but one has to really watch of whether the love bird of the show gets married to each other or not?
–Tejashree Bhopatkar