(Photos) Preity Zinta at launch of Godfrey Phillips Bravery presents National Geographic's – 'Trapped'. Saluting the strength of human will. Godfrey Phillips Bravery presents Nat Geo's – 'Trapped' – the most remarkable survival and rescue stories of people who chose life over death. Monday Nights @ 10pm.
Mumbai, Thursday, February 28, 2008: Imagine being stranded on an icy mountain without food or water. Imagine your body pinned under tons of steel and concrete. Imagine if your weekend adventure turns into a terrifying struggle between life and death. Would you have the strength and will to survive against all odds? National Geographic Channel and Godfrey Phillips Bravery salute the real heroes, through 'Trapped' – the most remarkable survival and rescue stories of people who chose life over death. Premiering March 3rd, the six-part series will air every Monday @ 10pm only on National Geographic Channel.
From an incredible tale of survival in the Andes to a daring cave rescue in France, the series gives a new perspective to these survival stories. Trapped celebrates the courage and ability of each survivor and rescuer to overcome the life-threatening obstacles they were faced with. Inspiring and heroic, these stories are a tribute to human endurance, will and determination.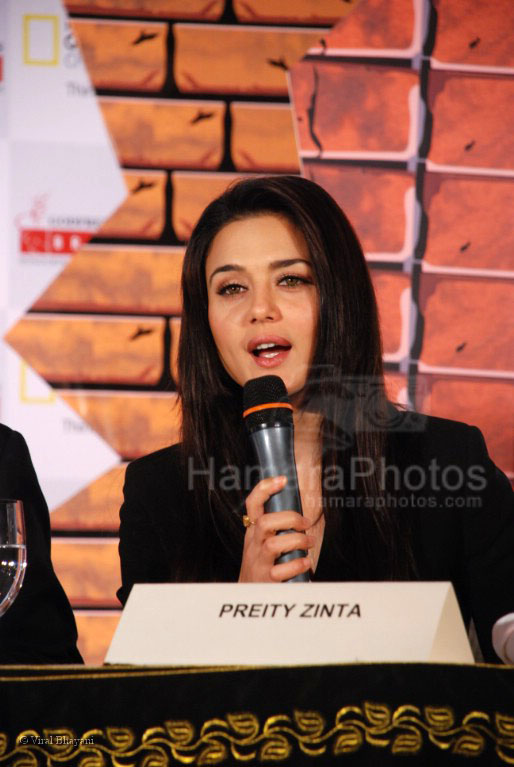 Speaking on the series, Nikhil Mirchandani, Managing Director, National Geographic Channel –South Asia said, "Both exhilarating and emotional at the same time, Trapped brings to life some of the greatest rescues of our time. Together with Godfrey Phillips Bravery we salute the determination, courage and bravery of people who chose life over death. We are thankful to Godfrey Phillips Bravery and their ambassador Ms. Preity Zinta for supporting this initiative and celebrating these stories of exemplary strength of character and unyielding will power."
Every episode tells the dramatic story of someone who is trapped, and their epic rescue. Each story is told from the viewpoints of the victims struggling to survive and that of the heroes battling to save them against all odds. Before disaster strikes and the race against time begins, Nat Geo constantly cuts between these two parallel narratives until they converge at the climactic moment of escape. The series showcases astonishing examples of creative problem solving, ingenious application of basic scientific principles, hi-tech engineering, bravery, sacrifice and heroism.
Apart from the six international films, the channel is also showcasing Indian stories of survival and bravery through on-air interstitials (short films) that also invite viewers to share their bravery stories.
Commenting on the partnership with National Geographic Channel, Harmanjit Singh, General Manager – Godfrey Phillips India Ltd said, "We are pleased to partner with National Geographic Channel on their latest initiative, Trapped which showcases the same strength of character, determination and bravery that Godfrey Phillips Bravery propagates".
Speaking at the launch of the initiative, Godfrey Phillips Bravery Ambassador, Preity Zinta, said "I have played many roles on screen, but the role of bravery ambassador is the most satisfying and humbling. It is a pleasure to see Godfrey Phillips Bravery join hands with National Geographic Channel to salute the acts of bravery by the common man, which are overlooked by most of us. I am extremely proud to be associated with an initiative like Trapped and would like to invite viewers to watch the series on Nat Geo".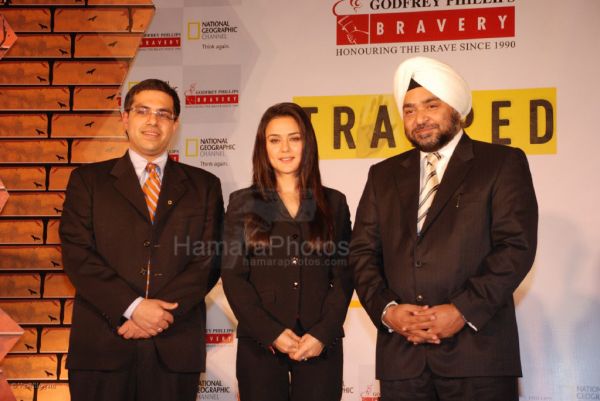 Presented by Godfrey Phillips Bravery, Trapped is being extensively promoted on-air and on-line. In addition there is also an interactive print and on-air SMS survival contest to keep viewers engaged. Viewers can test their survival quotient by sending the word 'natgeo' through SMS to 57827 and get a chance to win limited edition Nat Geo Survival Gear. The channel has also tied up with the premium men's lifestyle magazine, Maxim to create more awareness of the series. Taking interactivity forward, Nat Geo has created a special micro site on www.nationalgeographic.co.in which includes a host of features like show information, pictures, videos, survival tips and other interactive features like 'Ask the Expert' and 'Test your survival skills' quiz. Another key feature on the micro site is the showcase of people who have shown exemplary courage and been recognised by Godfrey Philips Bravery in the past. Viewers can also log onto the micro site and upload their survival and rescue stories.