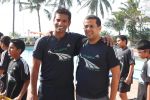 NDTV receives an overwhelming response to their 'Come N' Play' Day, celebrating the Grand Finale of the 'Marks for Sports Campaign'
Mumbai, February 6, 2012- NDTV celebrated the Fit India 'Come N Play' Day on Sunday, 5th February, dedicating an entire day to Sports, to celebrate the Grand Finale of the 'Marks for Sports' campaign. As part of the celebration, NDTV invited sports enthusiasts from across the country and provided them an unique opportunity to interact with country's leading sports personalities at various coaching camps organized across Mumbai, New Delhi, Bangalore, Kolkata, Hyderabad and Vadodra.
The city saw the coming together of noted sports personalities Dhanraj Pillai and Ritwick Bhattacharya who conducted Hockey and Squash workshops for Mumbaikars. Over 50 sports enthusiast turned up for the workshops held at St Andrews College, Bandra and Otters Club throughout the day. Well known fitness expert Deanne Pandey also conducted a fitness workshop at the Nirmal Lifestyle Mall in Thane as part of the Fit India Come N Play Day.
Supporting the cause, Dhanraj Pillai said, "This country is running behind only subjects like Maths, Science, Geography etc. There's always a competition among the students to outperform each other in only these subjects. The atmosphere in general isn't very encouraging for students to participate in Sports. NDTV is taking a very clever step towards changing the culture by educating the importance training the body along with minds. Today, I see more than 500 young hockey enthusiasts. They all have tremendous potential. It's reassuring to see that the national sport, Hockey, is still alive. With NDTV's Marks for Sports campaign, I do request each and every parents, teachers, and students take up any sport of their choice very seriously."
Adds Ritwick Bhattacharaya, "It's a great start. Anything that adds to the sensitization of a sporting culture is commendable. The challenge is to bring structure and develop the thought systematically. NDTV's efforts are laudable. We need to integrate sports meaningfully in to our curriculum."
Launched as an initiative in 2011, the 'NDTV-Nirmal Lifestyle Fit India' campaign has today become a movement. The NDTV-Nirmal Lifestyle Fit India Movement is the first to create a nationwide fitness movement and in the first year of this campaign, it has created awareness about the importance of fitness in life, and the hope that Sports and Fitness will be included as a compulsory part of the school curriculum with the Marks for Sports Campaign. The campaign was supported by people such as Campaign Ambassador, Ranbir Kapoor, sports' legends like Leander Paes, Vijender Singh, Gagan Narang, Baichung Bhutia and Pankaj Advani as well as the Late Mansoor Ali Khan Pataudi, along with various celebrities including Gul Panag, Rahul Bose and Milind Soman.
The year-long Marks for Sports campaign reached out to policy and decision makers across the country with a series of activities that included special televised debates and discussion programmes with the Campaign Ambassador, televised interactive ground activities with sportspersons and children and a signature drive asking for policy changes with pledges for donations and equipment. Also included was a school connect programme, to motivate and encourage students and their parent to accept Sports as part of the main curriculum. For more details log onto www.ndtv.com/marksforsports
About NDTV
NDTV Ltd, founded in 1988, is India's largest news and infotainment network. It is home to the country's best and brightest reporters, anchors, camerapersons and producers; 23 offices and studios across the country host India's most modern and sophisticated production, newsgathering and archiving facilities. NDTV has an unmatched track record of successfully launching both news and lifestyle channels; NDTV 24×7 is a clear leader in the English news segment; NDTV Profit, a 24-hour business plus channel, is India's number one business news channel; NDTV India is amongst the country's leading Hindi news channels; while NDTV Good Time straddles issues from health and holistic healing to fashion and food. NDTV is credited with pioneering several broadcasting and programming initiatives in Indian television and has expanded into one of the nation's biggest broadcasting houses by growing beyond news broadcasting and venturing into non news verticals. For more information visit www.ndtv.com
About Nirmal Lifestyle
Nirmal Lifestyle is a leading real estate company in India based in Mumbai, where it has been instrumental in developing Mulund as a preferred suburb of the city through its integrated development plan for the suburb that includes developing retail spaces, residential apartments, office spaces and luxury hotels. The company has an exclusive alliance with US Open (USTA) and Discovery to bring to India world class sporting facilities of international standards. It will also enter into alliances with four more global sports federations in the next three months which will enable the company to develop sports infrastructure and facilities. It also plans to bring global sports events to India through its exclusive partnership with these federations.