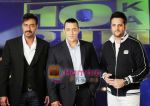 Season's break for Salman Khan & 10 Ka Dum – Ajay Devgan & Fardeen Khan of All the Best light up the10 Ka Dum Grand Finale this Diwali. After a euphoric second season of 10 Ka Dum, hosted by popular actor Salman Khan, the show takes the season's break this Diwali. The finale episode is truly special with Salman Khan is at his talkative best — he probably saved the Best for Last .With All the Best stars Ajay Devgan and Fardeen Khan for company, Salman decided to spill the beans and on some well-kept secrets.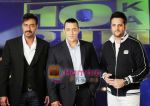 The grand finale of 10 Ka Dum will have a host of special guests like Shivaji Satam and his C.I.D. team. Salman Khan also had a surprise in store for him in the grand finale of 10 Ka Dum. He least expected that someone would impersonate him on his own show. One of the many entertainment acts in the grand finale of 10 Ka Dum was the team from Comedy Circus – Krishna and Sudesh who came up with an act where they hosted the show a la Salman Khan.
Do not miss the Grand Finale of 10 Ka Dum on Saturday October 17, at 9.00 pm only on Sony Entertainment Television.