By: Faisal Saif.
The wait is finally over. Salman Khan is back in full form once again with his 'Chulbul Pandey' avatar. But this time, He brings in more Power, More Punches and More Entertainment. The crowd is ready to Whistle, Scream and Go Ga-Ga for Salman Khan's star-power.
The film tells the story of Chulbul Pandey who moves to Kanpur. The moment Chulbul reaches Kanpur, He gets into tough-conflict with Baccha Bhaiyya (Prakash Raj). Baccha Bhaiyya is a criminal and a politician too. Bachcha Bhaiyya is scary. He has two brother's named Chunni (Nikitin Dheer) and Gainda (Deepak Dobriyal). Things take a turn for worse when Chulbul Pandey kills Gainda. A volcano erupts and a Battle takes place. A Battle between Chulbul Pandey and Bachcha Bhaiyya.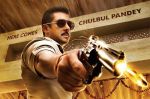 Prepare yourself for this year's most deadliest combination of Salman Khan and Prakash Raj. The towering performance with some fireworks in 'Dialogues'. It's a treat to watch both Salman Khan and Prakash Raj together once again after Wanted. Salman Khan as usual is the best. He takes off his shirt, Flexes his muscles, Fights the Villian and Flirts with Sonakshi, Welcome to the Salman Khan world with a 'Bang'. Sonakshi Sinha is charming and spicy as Rajjo. Arbaaz Khan and Mahie Gill's track irritates you a little, But as I mentioned earlier, You forgive and forget every mistake once you are in the auditorium to watch a Salman Khan film.
Arbaaz Khan as a director knows his job well. He execute every scene keeping in mind the 'Stardom' of brother Salman Khan. He tries his level best to give you a sure-shot entertainer in his very first film as a Director. The songs in the film are already a rage with 'Fevicol Se' becoming an all-time chartbuster. Kareena Kapoor performs good in the song. Bhaiyyaji Seeti is another craze. The camerawork of the film adds feather in a cap. The editing could have been more slicker by chopping off some 'Unwanted' scenes in a 2+ hour film.
Go watch Dabangg 2 keeping the fact in mind that it's a Salman Khan movie and make your Christmas Holiday merrier.
Cast: Salman Khan, Sonakshi Sinha, Prakash Raj, Arbaaz Khan, Mahie Gill, Vinod Khanna.
Directed By: Arbaaz Khan.
Ratings: ***1/2