Review By Troy Ribeiro (Rating: 2.5)
Billed as an action comedy and adapted from Tonino Benacquista's novel, director Luc Besson's film suffers from an identity crisis. Released elsewhere as "The Family", here in India, the film is called "Malavita". And if you were to ask, what's in a name? Well… Well, the film gets its name after the faithful canine, which the family loses in a bloody fight.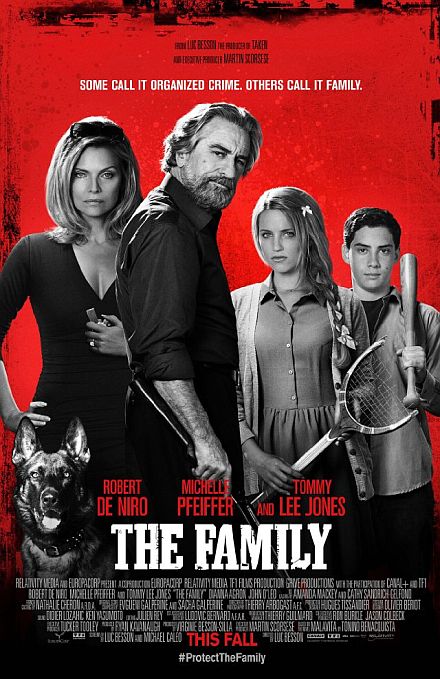 But "The Family" is not the dog's story. Unless it denotes, that every mobster leads a dog's life!
This is the tale of mobster Giovanni Manzoni (Robert De Niro) and his family that includes his wife, daughter, son and his dog.
Giovanni, after snitching on his mafia friends, is forced to lead a nomadic life along with his family. They relocate with assumed identities, under the US government's Witness Relocation Program to protect themselves as there is a contract on his head and a hit man on their trail. The problem is, instead of leading a quiet life; they keep drawing attention to themselves by refusing to put up with disrespect and injustice, which is fairly constant.
In Normandy, France Giovanni is Fred Blake who pretends to be an aspiring writer after he finds a discarded old manual typewriter. He decides to write his memoirs against the wishes of his wife, Maggie (Michelle Pfeiffer) and Agent Robert Stansfield (Tommy Lee Jones), who is saddled to keep the Blakes alive.
The rest of the family too has their share of action, a-la-mob.
The film speaks about issues of good and evil, honesty and deceit, intelligently and insightfully. The criminal psyche of Fred is justified with his good intentions. The film dwells on the lines of "Goodfellas" and makes a couple of references to it.
Most characters in the film are stereotypical and predictable. The actors give convincing and intense performances. But what's missing is the mystery and serious element as the story thrives on absurdities and coincidences, especially in the scenes that lead to the climax. Also, the climax does not elicit any real thrill or tension.
The sound and background score is effectively used in the film. But it is the dialogues that would be bothersome for the Indian audience, as the 'F' word which appears in every second dialogue, is blipped due to censorship issues.
Designed as a semi-period film, there are serious tonal issues with "The Family". Besson, along with co-writer Micheal Caleo, has tried hard to maintain an even keel with the presentation. The structure fluctuates between a noir mobster film and a comedy.
In reality, "The Family"/"Malavita" seems like a couple of half-baked movies, badly sewed together. The end result seems to be a forced uneven and uninspiring.
Film: "Malavita / The Family";
Cast: Robert De Niro, Michelle Pfeiffer, Tommy Lee Jones, Dianna Agron, John D'Leo, Vincent Pastore, Joseph Perrino, Paul Borghese, Jimmy Palumbo and Kresh Navakovic;
Director: Luc Besson;