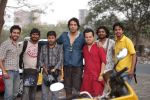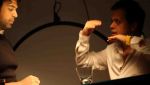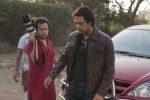 LUV ISRANI CAPTURES SAMIR KOCHHAR FOR HIS COFFEE TABLE BOOK! Mumbai, April 12, 2012. Fashion Photographer Luv Israni captured fashion icon and celebrity Samir Kochhar for his Coffee Table Book!
Samir Kochhar does not need any introduction. Recently he has hosted a reality show Survivor India. From four years he is hosting DLF IPL and even this year he is hosting, which is his 5th consecutive year. Samir is also a part of many movies like Bold, Ek se mera kya hoga, Jannat, Chase and Gandhi se pehle Gandhi. He has also appeared in British film 'The Mole'. Currently he is doing a Vikram's Bhatt's banner 'Dangerous Ishq' opposite Karisma Kapur.
Lensed last time in the shoot of the movie Hide and Seek, Luv showcased Samir's diverse crazy looks! Samir Kochhar says, "Luv and I have already done a crazy shoots before and so we have planned to go crazier. The basic idea of this shoot is to depict different emotions, whether it's fun, happiness, sadness, love or lust. It's a new concept and a wonderful team of Luv who has made this possible."
Luv Israni is one of the finest and the youngest Advertising, Celebrity and Fashion Photographer shooting a number of model portfolio, Fashion Features, Magazine covers, Television Publicity, Product shoot, Catalogues, Hotel Broachers, Film Publicity & Advertising Campaigns.
Luv Israni says, "Samir is a person who can be molded into any role effortlessly. It's my great pleasure to work with Samir. Regarding his photography, he states, "For me it's all about the eyes, the connection I have with my subjects. My camera embodies a powerful medium of expression and communication; nothing is more moving than capturing raw human emotions, whether it's a twinkle in a child's eye or the playful banter between children, or the wholesome, sexy glance of an adult. Capturing those moments for posterity is what my photographs are about."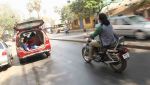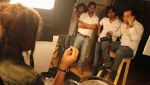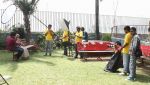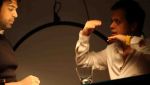 Luv has shot for films like Blood Money, Yeh Dooriyaan, Donno Y, Shreeman Driver Babu, Chingi and celebrities like Ajay Devgan, Kajol, Samir Kochar, Kunal Khemu, Shreyas Talpade, Amrita Rao, John Abhraham, Anjana Sukhani, Adah Sharma, Sophie Chaudary, Geeta Basra, Neeru Bajwa, Sayali Bhagat, Kabir Bedi, Hellen, Tara Sharma, Aarti Chabria, Anita Hassanadani, Tushar Kapoor, Sonal Chauhan, Aamna Sharif, Deepshika Nagpal, Maahie Gill, Raageshwari, UditaGoswami. He has shot for magazines like Maxim, FHM, Wedding Affair, Showtime, Savvy, Women's Era, Ravishing, Jade, Time & Style, Tele Prime Time, AGL & Hair.
Luv Israni has also shot for an international brands like Billabong and Shorty Capone and Indian brands like Philips, Roopam Gini n Jony, Dr. Batra, Misakee, Boroques and many on the list. He did film publicity for and television publicity for Shree Adhi Manav on Song Sab, Beach O Beach for colors, Jamunia on NDTV Imagine. He was also the official Fashion Photographer with Jaipur International Fashion Week.
You will attend the launch of Coffee Table Book after two months as Samir will be busy in IPL.
For more information on Luv Israni, or to go through his exclusive clicks, visit his website http://www.luvisrani.com.