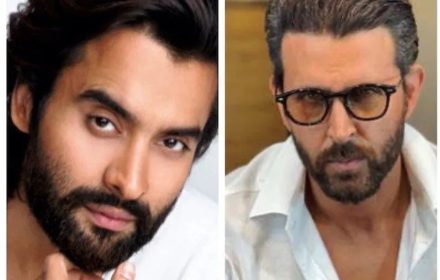 Actor and Entrepreneur Jackky Bhagnani's label Jjust Music captured the market, last year, with Tiger Shroff's single Vande Mataram, and now, superstar Hrithik Roshan has released his rendition of the original composition and expresses his gratitude to the young star for allowing him to explore his singing further.
Hrithik Roshan crooned his version of Jackky Bhagnani's, Jjust music owned original composition and unique version of the national song 'Vande Mataram'.
Sharing the song and expressing his gratitude towards Jackky Bhagnani and the entire team of Jjust Music, actor Hrithik Roshan wrote, "Felt it. Sang it. Put some shots together to present it. It's better on headphones although won't make the bad singing better. In hope and dedicated to the true spirit of Freedom. Freedom for every single individual. Thank you @jackkybhagnani for allowing me to use your creation"
"Thank you @vishalmishraofficial, been humming this since I heard this wonderful track, Thanks to my man @tigerjackieshroff for inspiring this, following your lead my friend. Thank you @purpose.studios for working on a holiday and taking a spontaneous thought n working your magic on it. Sorry for taking you by surprise @shannondonaldmusic promises to do proper way next time:) @jjustmusicofficial @warnermusicindia #VandeMataram" read the full note.
Young and talented Jackky Bhagnani has definitely created a buzz and carved a niche for his label with his collaborations with Hrithik Roshan, Tiger Shroff, and Rakul Preet Singh.
Jackky Bhagnani is not only creating ripples in the music sphere, he recently bagged the coveted Most Stylish Producer award, adding one more feather, as he is the youngest visionary producer to get such an award.
Jackky Bhagnani's first ever pan-India music video 'Mashooka' starring bold and quirky Rakul Preet is already trending on every portal.