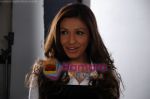 Model-turned-fashion choreographer Achala Sachdev is not doing a fashion show, but a show of another kind now. She's making her TV debut with the weekly television show "Har Kadam Par Shaque" and she can't stop raving about the experience of working with filmmaker Mahesh Manjrekar.
The 12-episode show is a murder mystery set in Kasauni in Uttarakhand.
Reportedly Sachdev plays a shrewd small town woman called Vasundhara Kapoor.
She's said, "It has been an absolutely wonderful experience. The series is shot in the chilly locations of Manali and I am really amazed to see myself adjust so well to the conditions here. Every day I get to learn something new and the whole experience is enriching. The unit is very helpful and makes the whole process very enjoyable."
For the uninitiated, Achla who is a well known name on the ramp, has acted in a TV show 'Kismat' in 1992 and featured in Mira Nair's 1996 film 'Kama Sutra'. She also did a cameo in the 2002 movie 'Na Tum Jaano Na Hum' alongside Hrithik Roshan and Esha Deol.
Manjrekar's show is a part of Sony Entertainment Television's new venture 'Specials @ 10', which has brought together four Bollywood directors – Anurag Kashyap, Madhur Bhandarkar, Vikram Bhatt alongside Mahesh Manjrekar to make weekly shows.