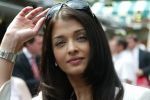 Last year it was dhak dhak girl Madhuri Dixit-Nene who received the prestigious award Padma Shri from the President of India and now this time around its going to be Aishwarya Rai Bachchan who would be honoured with this award.
Amitabh Bachchan speaks on this eve and feels proud of her bahu Aishwarya
"I would rush to be in time for the President's Award Ceremony at the Rashtrapati Bhavan, where Aishwarya will be honoured with the Padma Shri. It's a moment of great pride for all of us."
Further the legendry actor speaks, "She will become the 5th Padma Award in our household. My Father with the Padma Bhushan the first, then the Padma Shri for me, followed again by the Padma Bhushan to me some years later, Jaya's Padma Shri and now Aishwarya's. This must be a record for the country. 5 Padma Awards in one family. God has been very kind to us. The people of this land have been very kind to us. We are humbled and with bended knee and bowed heads acknowledge your affection and care and love."
Padma Awards were announced on the eve of the Republic Day. Aishwarya is the youngest person to ever achieve this honour from the film fraternity. Apart from her even Akshay Kumar's name was also announced for this recognition.