Elena Kazan, the German babe, well known for her role in Agent Vinod has a steamy scene in her next release, Prague. After enjoying sweet success in the recently released JohnDay, with Randeep Hooda and Naseeruddin Shah, she says she has high hope with this one, too.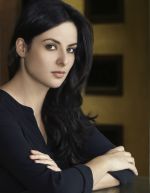 The movie is a psychological thriller and has many hot scenes that will knock the socks off today`s prudish audience. One of the many scenes includes the Elena and Chandan Roy Sanyal lip lock. According to the sources, Elena was very hesitant initially but after some persuasion by director Ashish R. Shukla, she finally agreed. Elena, who is a professional, was quick to understand that the hot scene was very vital for the buildup of the movie.
The lip lock is one of the many important scenes of the movie that shows affection between her and Chandan, that goes on through out the movie along with the main story. Everyone is very excited with the proceedings of the movie.
It`s an extravaganza of romance, twists and groovy tunes. This one promises to be an out and out entertainer.