By: Faisal Saif
Farah Khan choreographed Kareena Kapoor in the item number 'Fevicol se' from the movie 'Dabangg 2', is thrilled with the roaring response to the song. She also tries and clears the allegations about the song being compared with Kareena's earlier raunchy number 'Halkat Jawani', Especially the looks.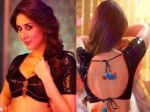 "I am very happy. I do very few songs in a year and I normally choose. Last time as well I heard the songs of 'Dabangg' and chose 'Munni badnaam', but this time Arbaaz Khan had already picked 'Fevicol se' for me. Both the songs Fevicol and Halkat Jawani are different. They don't have any similarities. Kareena has worked specially hard because she is just doing an item number in the movie 'Dabangg 2'. I always give easy steps that everyone can do, parents and kids all,." said Farah Khan.
Many people find 'Fevicol Se' to be Vulgar, Farah immidiately replied "It has fun steps. It is not vulgar at all." 'Dabangg 2' is directed by Arbaaz Khan which stars Salman Khan and Sonakshi Sinha in lead roles and hits theatres on December 21.