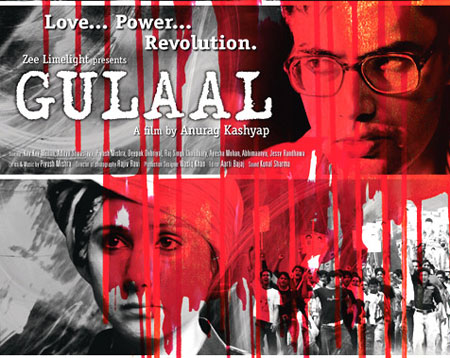 Set in the fictional Rajpur town of modern-day Rajasthan, Gulaal is entangled with stories of student politics, a covertly taking shape local rebellion for an independent Rajputana stare and love taking it forward. The meek, Dileep Singh (Raj Singh Chaudhary), is an idealistic man who gets caught in the whirlpool of student politics and much more.
Rating: 4/5
Starring: Kay Kay Menon, Raj Singh Chaudhary, Jesse Randhawa, Deepak Dobriyal, Aditya Srivastava, Ayesha Mohan, Piyush Mishra and Abhimanyu Singh
Director: Anurag Kashyap
As Dileep gets sucked into the world of Rananjay (Abhimanyu Singh), Dukkey Bana (Kay Kay), an autocratic local Rajput leader who is leading a planned armed movement to reclaim Rajputana for Rajputs, a brother-sister couple (Aditya and Ayesha), the illegitimate children of an erstwhile Rajput king who are seething at their bastard status (Aditya Srivastava, Ayesha Mohan) and Anuja (Jesse), a young teacher who becomes a social misfit in college after a particular incident inflicted upon her by college hooligans. Dilip gets used as a pawn by people who matter to him and ends up being an unwilling player in a sinister plot. What it all leads to forms the rest of the film.
Bollywood gets yet another talented actor in Raj Singh Chaudhari who is also the co-writer of the film. In a film packed with great acting talents, Raj stands out with his convincing act. Kay Kay Menon as always is simply superb. Another show stealer is Deepak Dobriyal who plays his loyal assistant in the film. He speaks volumes just with his expressions without speaking much. Mahie Gill as the mujra girl cum beauty parlour owner is stunning and has tremendous screen presence. Aditya Srivastava and Ayesha Mohan are good as well. Piyush Mishra is terrific as Kay Kay's brother and has the film's best lines.
Gulaal was claimed as Anurag Kashyap's angriest film and it indeed is. It explores the dynamics of royalty vis-à -vis the democratic system. Sectionalism today has set everywhere in a big way and the film is the true reflection of where our nation stands today. Though been in the making for more than four years now, never once the film gives a dated feeling. The credit for which also goes to cinematographer Rajeev Ravi.
Kashyap's dialogues that are replete with sarcastic one-liners, beautiful poetries and philosophies and also the referential meanings are amongst the finest seen on screen for a long long time in Bollywood. Piyush Mishra apart from acting superbly also scores full marks for his hard hitting lyrics and beautiful music that is mix of many interesting things such as sarcasm, peppiness, and sensibility. It is the film's lyrics and music that make the film a completely an extraordinary experience.
Gulaal is something that is extremely relatable, especially for today's youth. Though at a running time of over two and a half hours, there are times when the film tends to appear dragging, it is worth a watch. The film though has Anurag's now trademark abstractness at times, it is not as incomprehensible as it was in No Smoking or in Dev.D. Go watch Gulaal.