On Tuesday, musical maestro A R Rahman, Gurinder Chadha, Huma Qureshi, Hariharan, Hans Raj Hans attended the music launch their upcoming film Partition: 1947 in Mumbai. While speaking to the media A R Rahman revealed that he is very big fan of Gurinder Chadha's work.
Talking about working with Gurinder Chadha, he said, "She is so talented and she has got amazing sense of humour in terms of storytelling and I am big fan of her (Gurinder) Earlier, we collaborated in another Hollywood movie where she was script writer but that movie never took off so it was important for us to work together so now I am glad that I have worked with her."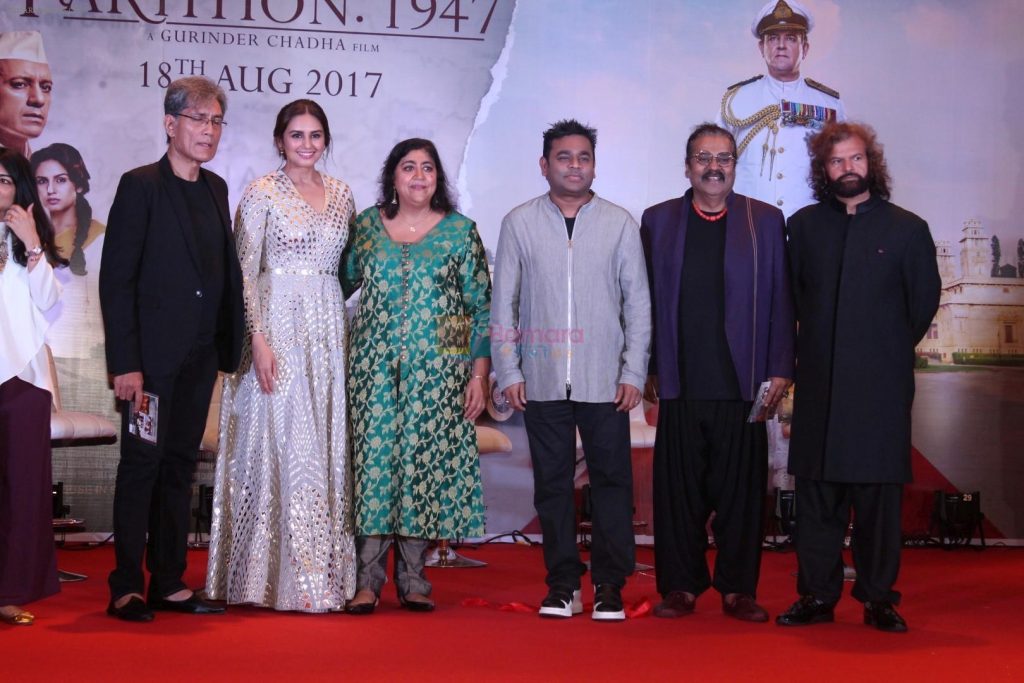 Talking about thought behind music of this film, he said, "It just reflects the film and Gurinder's vision. When she showed lot of facts about partition to me which earlier I didn't knew so that fascinated me. Today's young generation is opinionated and judgmental so now this movie is releasing at very important point time of history, the way things are changing now in India as it will change the perception of the people".
Talking about music of the film, he said, "I tried to find balance because it was meant for western audience as well so we didn't want to go too desi and we have western producers as well so we had one thought of not making it too Indian and eventually it blended very well. I am getting all amazing messages from people. It's also shortlisted in world sound track award in Belgium".
He added, "The music inspired for this film from the sense of purity. There is purity in everything and we were trying to bring that out. The basic feeling of anything starts with purity after that things gets corrupts so the origin of purity what we trying to get in the melody of this film".
Rahman is collaborating with singer Hariharan after long time, to that he said, "One of the famous song of mine 'Bharat Humko' from Roza was sung by Hariharan. I feel, people see convenience, whatever is there available they use it a lot and finish it so I feel like bringing back amazing things to people who has given so much to us and Hari is one of such in my life".
When asked about old melody fading away from today's music, Rahman said, "I love classical and folk music. I try my best to bring classical music and mix it with present generation. In my other film Mom, I have taken tappa (semi –classical music form) and produced it with EDM (electronic dance music) so it reached out more and I have been getting very good responses which is very similar in this film as well"
Gurinder is currently in India to promote the Hindi version of her film Viceroy's House, titled Partition: 1947, starring Huma Qureshi. The film will release in India on August 18.