Shaad Randhava ma appear a new name, but for those who have seen Wo Lamhe and Awaapan this is a known name becuase Shaad Randhava had attracted viewers attention in these films. Son of world famous wrestler Randhava and nephew of Dara Singh have now earned a name for himself. Acting is in his bloods due to his father and uncle.
Famous actress Mumtaz is his Mausi, mother's sister. At present Shaad is the playing the lead role in Rokkk and has Udita Goswami and Tanushree Dutta as glamourous actresses in the film. Rokkk is being presented by Ikkon Films and produced by the trio of Krishna Chaudhary-Sumit Sehgal-Vipin Jain. Director of the film is Rajesh Ransinghe. Recently we met Shaad on the sets of the film where we had a long chat. Presented below are the excerpts from that chat: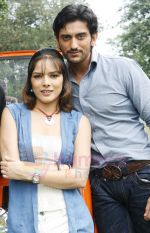 Do you wanted to do act in the films since your childhood?
Yes, this is true. I had a family of film personalities and was doing stage shows since I was in class four of Arya Vidya Mandir, Mumbai. Then I did the same during my college days in M.M.K. College where I did my B.Com. I was known for performing all kinds of roles and viewers used to appreciate my acting and dialogues. It was then that I decided to join films as an actor.
How did you get the entry?
Due to my Uncle Dara Singh and Mausi Mumtaz I had no difficulty in getting entry into the films. But you get the chance only once and thereafter you get everything based on your own performance. Your have to fight for every inch of territory here. I got a role in Wo Lamhe in 2006. This was a Bhatt camp film which was directed by Mohit Suri. The story was based on the life of Parveen Bobby. I got a chance to work with Shainy Ahuja and Kangana Ranavat in this film. I was awarded the Best New-comer for the film by Stardust. Being awarded in my very first film encouraged me. Thereafter did many important roles in Awarapan and Dhum Dhadaka etc.
How were you selected in ROKKK?
Producer Krishna Chaudhary was looking for a young actor and Imran Hashmi and secretary of Udita Goswami introduced my name. I was called and got selected after I met krishna Chaudhary and Rajesh Ransinghe at the office of Ikkon Films.
What was the special which made you accept the offer?
Krishna Chaudhary had once made a Sunny Deol starrer movie Right Yaa Wrong presented by Subhash Ghai. He has also made Jacky Shroff starrer Bhoot Uncle. So he is a producer who has a history of successfully completing and releasing films in time. Right or wrong is due for release this month. Then I had a chance to work with Udita Goswami, Tanushree Dutta, and Sachin Khedekar. Third is my role in the film and its story and finally is the fact that director Raajesh Ransinghe is known as master of horror films.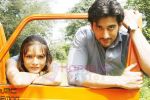 Now please tell something about your role and the film Rokk?
I am doing the character of Ranbir who is a CBI officer. Udita Goswami and Tanushree Dutta are sisters in the film. This is a horror movie. Some unnatural happenings start in the house of Tanu. Her sister Udita thinks that some one is doing all this mischief and so I am entrusted to look for the culprit. Udita is a courageous girl and joins me in this mission. We then develop intimacy. I am getting good support from the producer Krishna Chaudhary and director Rajesh Ransinghe, so I have high hopes from this film Rokkk
Do you believe in ghosts and this type of incidents?
No, I don't believe in such stories, but after doing the film I have started feeling that there are some invisible powers too. Some times when rituals are performed for exhorting it seems that some unnatural power is trying to create obstacle for the film. Just see now, the shooting has stopped due to rains and it is raining in only half a kilometer radius around the shooting area. Is not it surprising?
Whar kinds of films are you going to do in future?
I would like to do this type of character as I have in Rokkk. Then I would like to insure that the character matches my personality. I am going to act in Bunty Walia's Gangs of London and a special project of Vishesh Films after Rokkk.