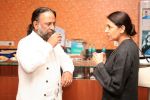 New Delhi, June 16 (IANS) Filmmaker Ketan Mehta, who is currently preoccupied with "Rang Rasiya", a film on 19th century painter Raja Ravi Varma, is keen to make a science fiction film soon. "For me, each new film is an adventure. It is like a reinvention of my style. I would like to experiment with every form of cinema. I really want to do a sci-fi film," Mehta told IANS Tuesday on the sidelines of the ongoing Osian's-Cinefan Film Festival here.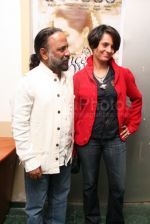 Considering that Mehta has recently been known for making historical films only, doesn't the idea of making a sci-fi film seem a tad too experimental? "That is a very short sighted way of looking at the scene. There are phases in a filmmaker's life. I have also done a contemporary film like 'Aar Ya Paar'."
Some historical films by Mehta include "Sardar", "The Rising" and now "Rang Rasiya". Two of his future projects are also based on historical characters – one is on Rani Laxmibai and another on Bahadur Shah Zafar. Albeit the latest Indian sci-fi film "Love Story 2050" starring Harman Baweja and Priyanka Chopra fell flat at the box office, Mehta is unperturbed.
"That 'Love Story 2050' didn't work is no cause of worry to me or anyone. That does not affect my decision of making a film on sci-fi. But I would also say that we don't have even one good sci-fi film in India yet."
Mehta says India will soon make sci-fi films that will match international standards. "It will not take too long for Indian sci-fi films to reach international standards," said Mehta, who is the only Indian jury member in the Asian-Arab Competition at the 11-day Osian's Film Festival.
"Over the past 10 years, India has acquired some of the best technology. I own an animation school MAAC (Maya Academy of Animation Cinematics). Huge number of people is taking interest. We are gradually absorbing the available technology.
"International cinema has been doing sci-fi films for 30 to 40 years. India has indeed a lot of catching up to do, not only technologically. I also mean in terms of matching up to their minds. Indians have started opening their minds to such cinema but it needs to be done faster," he added.
Among the more recent films in Bollywood, Mehta's favourite pick is Aamir Khan-directed "Taare Zameen Par". He says it was a path-breaking movie. Mehta had worked with Aamir in his 1984 film "Holi" and his controversial film "The Rising".
Currently, the filmmaker is upbeat about "Rang Rasiya" that has Randeep Hood playing Raja Ravi Varma and Nandana Sen his muse. It is slated for September release.
— By Radhika Bhirani