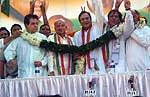 Sunil Dutt: While it is no doubt that Sunil Dutt was an extremely popular and charismatic star, he is never really spoken of in terms of his histrionics which is extremely unfair if you look at his body of of work. Dutt could play the simple earnest hero – the idealistic young man or the anti-hero – the 'angry young man' with equal elan. Be it the comedies or the Muslim Social, be it weepy melodramas or personal experimental films — he did them all and successfully too.
Birthday: 6th June, 1928 in Jhelum, Pakistan.
Date of death: 25th May, 2005 in Mumbai.
Spouse: Nargis (1958-1981) (her death).
Debut Film: Railway Platform (1955).
Major Impact: Mother India (1957).
Successful Films: Ek hi Raasta (1956), Sadhana (1958), Main Chup Rahoongi (1962), Gumrah (1963), Waqt (1965), Khandaan (1965), Gaban (1966), Mera Saaya (1966), Humraaz (1967), Milan (1967), Padosan (1968), Chiraag (1969), Heera (1973), Pran Jaaye Par Vachan Na Jaaye (1973), Zakhmee (1975), Nagin (1976), Nehle pe Dehla (1976), Parampara (1992), Kshatriya (1992), Munnabhai MBBS (2003).
Awards: Two times winner of the Filmfare Best Actor Award and also of the Padma Shri by the Government of India.
Facts we didn't know:
Sunil Dutt grew up as Balraj Dutt in a family that had survived the Partition of India. A student of Mumbai's Jai Hind college, he first started off as radio show host and celebrity interviewer, which led to his first encounter with the glamor world.
Prior to his death, he was youth affairs and sports minister with the ruling Congress coalition government. He was a popular politician and one of the first actors from Bombay's huge movie industry to enter politics. He was elected five times as a member of parliament.
Declared his assets of around 200 million Rupees before going for elections.
Besides being a big supporter of secularism, he was totally against the concept of dowry and it is said that he told his wife to come in the same dress that she wore during the wedding to his house. He also made a film "Yeh Aag Kab Bujhegi" on this topic.
Survived a plane crash and a bad car accident.