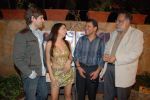 New Delhi, July 13 (IANS) "Shoot on Sight", a thriller about the London bombings made by Britain-based Indian filmmaker Jagmohan Mundhra, was screened for the first time in India at the ongoing Osian's-Cinefan film festival of Asian and Arab cinema. Mundhra said the film would spark a healthy debate on Islamic extremism and Islam-phobia of the West.
"I have finished my job by making the film. This is my first public screening in India and I am anxious, but I hope people like it. However, I can assure you that the film will generate debate," Mundhra, who here Saturday for the screening, told IANS. Filmed entirely on location in London, "Shoot on Sight" is loosely based on a true story of Tariq Ali, a Muslim police officer working with the Scotland Yard.
The director says he has also incorporated his own experiences in the movie. "I was not trying to appease the fundamentalists when I was making the film. I made the film because after the bombings (July 7, 2005) I was in London and I noticed that my looks went against me, probably because I have a beard and I resemble a Muslim. I couldn't even get a taxi back to my apartment," said Mundhra.
The film unfolds the turmoil in the life of Tariq Ali (Naseeruddin Shah), a Muslim police officer at Scotland Yard, who is asked to track down suspected suicide bombers involved in the July 7 bombings. Tariq, who is married to Susan (Greta Scacchi), a Briton and raising two children –Zara and Imran, is asked to investigate the killing of an innocent Muslim by the commando shooters of Scotland Yard. Things get complicated when his colleagues try to frame him and when his nephew teams up with Junaid (Om Puri), a fundamentalist.
The director says that initially the police officer Tariq refused to speak on the issue. "When I went to Tariq Ali with the script, he refused to support it openly but last week he sued the Commissioner of Scotland Yard on the grounds of racial discrimination and injustice," informed Mundhra.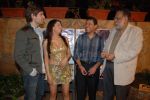 The cast of the film has Indian as well as British actors. Naseer proves his versatility once again, but it is Om Puri who stands out as a fundamentalist in the movie. Gulshan Grover, too, impresses as a liberal Muslim. Mundhra, whose last film was "Provoked", has managed to bring forth the dilemma of Muslims living in the West. The movie is enjoyable, but not passionately engaging despite good performances. The director could have done better.
"Shoot on Sight", which had its first screening at the 5th International Dubai Film Festival, will hit the Indian screens tentatively around September, after its release in London July 25.
— By Robin Bansal