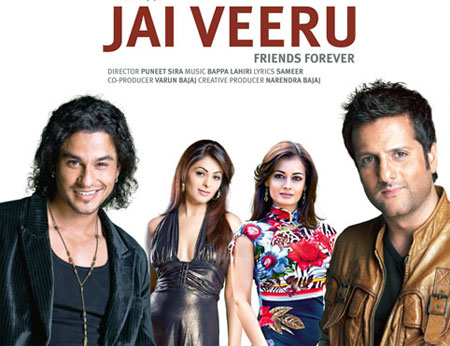 Veeru (Kunal) meets Jai (Fardeen) in a pub when the latter saves him from getting beaten up by goons. Veeru is a small time crook who masters in stealing cars. He convinces Jai, a motor mechanic to join him and Jai does. But little does Veeru know that Jai is basically on an undercover mission to nab underworld don Tejpal (Arbaaz) for whom Veeru works for.
Rating: 1.5/5
Starring: Fardeen Khan, Kunal Khemmu, Dia Mirza, Anjana Sukhani, Arbaaz Khan
Director: Puneet Sira
When Veeru comes to know about Jai's reality a scuffle follows. During this, Jai accidentally gets shot by Veeru who manages to escape the country. While Jai thinks Veeru did it on purpose to kill him, a heartbroken Veeru is in double trouble as if Jai's double game was not enough, he has to save his skin from Tejpal who is baying for his blood as he is having in his possession a special diary that can expose Tejpal. Then there is also Mumbai Police who is hunting for him. What follows next forms the rest of this film.
Ten minutes into the film and you realize it is completely aimed at the interiors of India where multiplexes are yet to make headway. Adding all the masala required for a typical entertainer that once worked in the 70s and 80s, Jai Veeru tries to aim to be a mindless entertainer, yet it fails. That is mostly because there is not a single novel thing in either the presentation or the screenplay.
Even the actors playing the parts seem uninterested in their job. Fardeen is completely lackluster while Arbaaz sleepwalks through his part expressionlessly. Kunal Khemmu is the only actor who tries to impress and succeeds sometimes. Anjana Sukhani playing Kunal's girlfriend is hardly there and gets no scope at all. Dia Mirza as Fardeen's live in girlfriend looks pretty but again barely gets any screen time. Also her turnaround in the climax appears forced. Govind Namdeo as Fardeen's boss is his typical self.
Puneet Sira who made the gory I Proud To Be An Indian (2003) needs to take immediate classes in film direction. Neither does he posses the ability to narrate a simple story nor has he succeeded in holding your attention on screen beyond ten minutes. Bappa Lahiri's music is nothing worth talking about as well.
Give this film a miss guys and save your money.