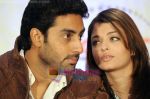 The buzz is that Abhishek Bachchan was troubled greatly by a journo on the sets of 'Ravana'. The news is that a certain journalist from a prominent news channel trooped along to the sets of the Mani Ratnam film. Now Mani is known for maintaining tight security on the sets and the secrecy of the plots of his films.
Even family members from his cast and crew are not allowed to entertain any guests and therefore no media person is entertained while the filmmaker is at work.
He had come with his camera crew demanding an exclusive interview with Abhishek Bachchan and was thrown out. The guy felt insulted and got his sub-inspector friend along to get Abhishek Bachchan out for 'police interrogation'.
Mani Ratnam who likes to concentrate on work and not such things got a little jittery.
He then requested the biggies in the news channel to intervene. It was after much effort that the journalist left the sets and the shooting started again.
Well, Abhi must have never expected a tantrum throwing journo. He and Mani would be more careful with journos from now on.