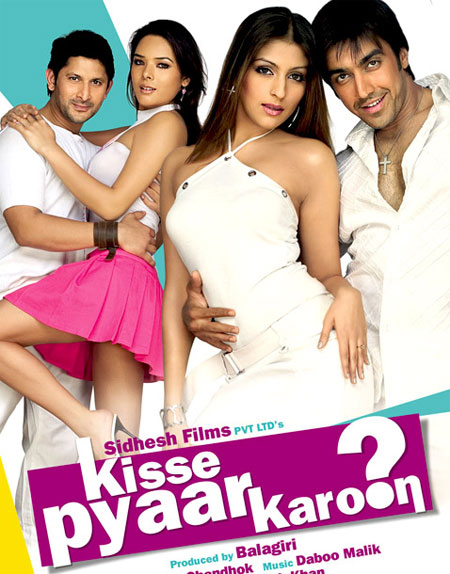 Sitting through this inane film is an absolute torture and one should consider himself lucky he comes out of the hall without a headache. The film throws together an apology of a plot, hamming actors, plenty of double innuendo dialogues, badly picturised songs and a director who doesn't know his job. If this all has not put off you already about the film then read ahead what this mega torture is all about.
Rating: 0.5/5
Starring: Arshad Warsi, Ashish Choudhary, Yash Tonk, Aarti Chabbria, Shweta Menon, Udita Goswami
Director: Ajay Chandok
Thick friends Arshad Warsi, Yash Tonk and Ashish Choudhary are good for nothing overgrown college kids (???) who have their own unique (?) characteristics! While Arshad finds tremendous glee in pornography, Yash Tonk is completely his opposite as he simply hates girls.
Ashish is madly in love with Aarti Chabbria but she doesn't care a hoot about him. To make him smile, Arshad and Yash hook him up with Udita Goswami. But Udita is instrumental in distancing him away from his best friends. She feels Arshad and Yash spell no class and Ashish is better off from them. To turn things around for the better for themselves, they bring in a cheap prostitute Chameli aka Julie (Shweta Menon). Udita's underworld don brother, Shakti Kapoor too joins in to spoil the fun.
What chaos it all leads to forms the rest of the film.
Few minutes into the film and you will realize the makers clearly have aimed it for the masses who frequent single screens in the B and C centers. The crass language used by the characters and the pathetic screenplay is enough for anyone to lose his cool and demand his money back for unleashing insufferable pain in the name of entertainment.
The basic plot is lifted from Hollywood comedy ("Saving Silverman") which in turn was also the main theme of 2008's flop comedy ("De Taali") starring Ritesh Deshmukh, Aftab Shivdasani and Ayesha Takia. But here instead of capitalizing on a fairly okay plot the makers have messed it for the worse.
The laughs fall flat and songs attempt to put you off to sleep. But wait! the background music is loud enough to keep you off from even dozing off! Ajay Chandok who gave us yet another pathetic comedy before, Nehle Pe Dehla still hasn't learnt his ropes about direction it seems. Anything happens anytime with lack of direction visible clearly!
Arshad Warsi seems to have signed this film ages back as his looks keep changing at regular intervals during the film. No wonder he has distanced away from this film now and refused to promote it. Ashish Choudhary still can't act while Yash Tonk should understand making faces on screen doesn't make you an actor. Less said about the girls the better! Shakti Kapoor grates on your nerves with his loud act.
Save your money mates and see a rerun of Saving Silverman instead which keeps coming on movie channels regularly.