Vision Music Company's music album 'Chand Sa Chehra 'is released. The video of its song 'Chahun tujhe…….' was shot in Mumbai.Singers are riyaz Ahmed Nari & Rooprekha Benerjee.The video was shot on 'Amarsons' & 'Aamrapali's fame model & model in Fashion and T.V add,Print media & South Indian actress Kartika Singh .
Everybody present on the location has only words of praise and appreciation for Kartika's buity and oomph. Every people was impressed by the music and wished the album all gargantuan success. Kartika considers herself lucky to have do album, and she puts in her happiness this way, "I am very happy & I thanks Vision Music . I am not averse to films but I won't do it for the sake of just doing. Role must be good enough to get me in.or Item song in big banners film"'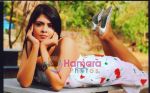 Kartika Singh is a glamorous model and actress with sensational vital statistics , she is 5.4" tall. There are many who emerge on the scene year after year, who face the Camera flash and stand below the arc lihts, but there only a few that linger on the memory.—-. Kartika Singh was just another face at the start trying to make it in the film and modeling industry. But a single right decision turned her life upside down and made her a face that everyone, in every part of the world recognized. She always believed that dreams really do come true.. Now she working as a model in Fashion and T.V add, print media and now she started in Films also. She passionate about-Reading, books IF ask what next ,apart from modeling she says,"Quite a bit not that i want to give up modeling, but i want to do other things, i'm not sure exactly what though. i trust in myself and believe that i'll find my way'".