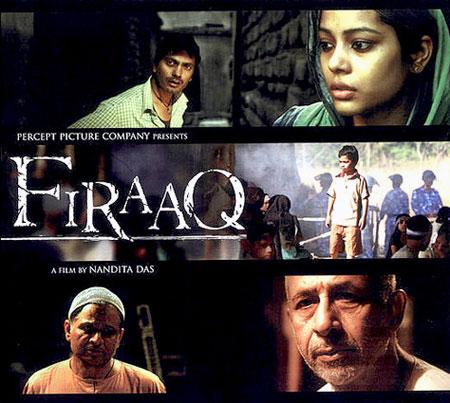 The film takes place over a 24 hour period and a month after the infamous Godhra incident which were followed by a horrific communal carnage in the state of Gujarat. It peeks into multiple characters amongst such as Aarti (Deepti Naval), a housewife who is silently haunted by the image of a Muslim woman begging for sanctuary.
Rating: 3/5
Starring: Naseeruddin Shah, Sanjay Suri, Deepti Naval, Shahana Goswami, Tisca Chopra, Paresh Rawal
Director: Nandita Das
Another is Khan Saheb (Naseer), a renowned musician who lives in a Hindu area, and teaches classical music. He cannot understand the destruction of his familiar world, and naively assumes that it is possible for the two communities to live together.
There is also Muneera (Shahana), who hides with friends during the violence, and returns to her home to find it burned to the ground. And there is Sameer (Suri), a young, dashing, wealthy Muslim married to a Hindu Anuradha (Tisca), who is torn between the dilemma of staying in Ahmedabad or leaving for another city where he and his wife might be safer.
Lastly, there are the stories of other hapless Muslims, who make incompetent plots to take revenge.
Despite choosing such a heavy subject in her directorial debut film, actress Nandita Das has succeeded in handling it with utmost sensitivity and technical finesse. With an able technical support from India's finest technicians such as cameraman Ravi K. Chandran (Ghajini, Rab Ne Bana Di Jodi) and editor Sreekar Prasad (Guru, Yuva) Nandita has managed to assemble and ensemble cast of talented actors which take the film to a completely different level.
The stories are not exactly interwoven but do manage to strike a chord. Firaaq's strength lies in focusing on ordinary Hindus and Muslims whose lives were affected by the riots. Nandita barely resorts to showing graphic violence on screen and it's fear, anger and anxiety are all understated.
Paresh Rawal in a serious role after a long time is a treat to watch. Sanjay Suri carries one of his most difficult roles with aplomb. Tisca playing his wife lends able support. Shahana Goswami post Rock On delivers yet another award worthy performance. But it is Naseeruddin Shah and Deepti Naval making a comeback on screen after a long gap whose performances linger on your mind long after the film is over.
Firaaq is not meant for the faint hearted or those seeking two hours of time pass. It shows us the uncomfortable truths and painful reality in which the people of our country must live, as they set about repairing the destroyed trust between two communities.