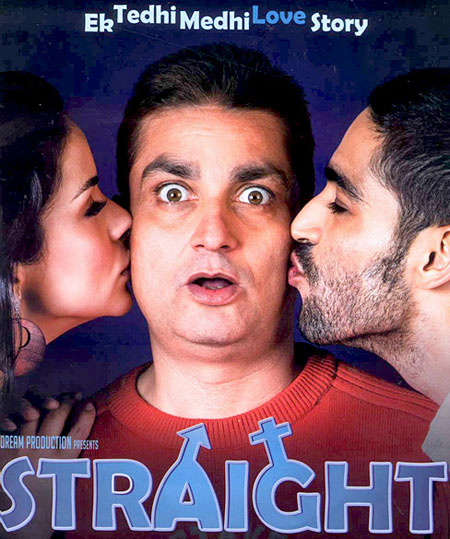 Settled in London Pinu Patel (Vinay Pathak) is a successful restaurateur who runs an Indian restaurant. But the 30 crossed simple at heart bloke is still a virgin. His foster brother Rajat (Sid Makkar), however is a complete opposite of him and is a confident and extroverted young man.
Rating: 2/5
Starring: Vinay Pathak, Gul Panag, Siddharth Makkar, Anuj Choudhary, Rasik Dave, Ketki Dave
Director: Parvati Balgopalan
A wannabe stand up comic artist (Anuj) lands up at Pinu's restaurant hoping for a job but Pinu hires him instead as a cook who can also do a stand up comic act to entertain the hotel patrons. Also, the very same day Pinu hires Renu (Gul) as his hotel's cashier. These two new recruits change things for the better for Pinu as his business starts soaring. The three now become very good friends and start hanging out together.
But certain situations then lead to make Pinu believe that he may actually be having Gay leanings. His foster brother Rajat advises him to have a sexual romp with hot woman but all one thing leads to another and the chaos it all leads to forms the rest of the film where Pinu has to struggle finding the woman of his dreams as well as come clean on his sexuality.
The wafer thin plot of the film appears stretched after a point of time. Agreed the film generates a few laughs here and there but what irritates you in the feeling of déjà vu that Vinay Pathak has begun to generate while watching him on screen nowadays.
It's the same act he has been putting up in his recent films such as Dasvidaniya and Oh My God the basic good at heart simpleton with a heart of gold who is always misunderstood by others. The film's production values are of high standards and the locales of London have been captured very well too.
Parvati Balgopalan who gave us the delightful romantic comedy Rules-Pyar Ka Superhit Formula in her second outing does a decent job. She efficiently handles the comic portions and kept the narrative engaging. The peppy soundtrack of the film adds fun to the proceedings.
Like mentioned above, Vinay though puts in a sincere effort, disappoints as there is no novelty in his performance. The only new thing well he manages to smooch Gul Panag. Gul looks extremely hot and puts in a good performance. Newcomer Anuj Choudhary is likeable. Siddharth Makkar is good as well. Real life couple Rasik and Ketki Dave, together perhaps for the first time in a Hindi film, are fun to watch.
Straight is not another Dostana but what could have been an enjoyable fare gets a little drab because of Pathak.