Naseeruddin Shah has been there and done, much before Indians went crazy about 'Slumdog Millionaire' and the Oscar glory. He in fact runs it all down in his own smart way. The actor was tipped to play the Mahatma in Richard Attenborough's 'Gandhi' and has done 'The League of Extraordinary Gentleman' alongside Sean Connery.
He recalls his 'Gandhi' experience after 27 long years.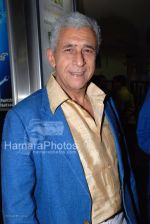 He's said, "I realised quite quickly that I was never in the running for it seriously. Ben Kingsley had been cast. I didn't speak to a soul about it. The rumour had it that I had got the part, it was on the front page of the newspaper. This is when I was going to London. At Shepherd Studios I met Ben Kingsley and the moment I saw him, I said "Oye, forget it" So far I had been very cocky because I had been thinking – "where is he going to find an actor who looks like Gandhi ji. And there he was – Ben Kingsley. And some perfunctory kind of test was conducted and I was given a ticket back home. But I knew Ben Kingsley looks more like Gandhi ji. And I met him, talked to him for a while, watched his audition and I saw he was very good. I don't think I would have suited the role too. And I couldn't have delivered at that age. I was too young."
The talented Indian actor makes no bones about the fact that 'Slumdog Millionaire' ain't an Indian success story.
He's stated, "It's a Bollywood movie made in English. I don't enjoy Bollywood movies too much, but I enjoyed this one. It was a different take on the 'underdog shall triumph' formula, the feel good formula. I enjoyed it. I wouldn't see it a second time and I don't think that it was the best film of the year. But what's wrong with us? We are celebrating it as if we have made it, as if we are responsible for it, as if we financed it, as if we made the film possible. We are all behaving in that way. Everybody knows it's not an Indian film, it's not been made by an Indian, it never occurred to an Indian to make 'Slumdog Millionaire', it never occurred to an Indian to make 'Gandhi' either for that matter, but we ran to lap up the accolades when they started coming."
Well, this guy knows how to speak his mind and it's also no good news for all the Indian actors who are trying to make it big in the west, post the movie.
He's said, "It's not a big deal. The money is a little bigger and that's about it. Otherwise it's the same old story. In fact for those who have tasted stardom here it's even sadder that such people should try and now grab roles in the West because what they are going to get is not what they are going to like, I can promise you. You are confined to one tiny little cabin of Indian actor – the maharaja, the cook, the terrorist, the baira (waiter) and so on. That's all you will get. Anything which requires wearing a turban."
Umm…, the success of A.R Rahman and technician Resul Pookutty is understandable.
But the likes of Freida Pinto who have piggybacked on the success of the Slumdog and are hoping to become big in the west( even Bond girl dreams) have a lot to worry about.
With all the experience behind him, it's totally certain as the guy knows what he's speaking about. Time for all the dreamers of the Indian acting world to get real.