As Preity Zinta aces her showstopper act at Lakme Fashion Week, the actor said she was ready to leave Bollywood forever but husband Gene Goodenough stopped her.
Last seen in a full-fledged role in 2013, actor Preity Zinta is gearing up for her big Bollywood comeback this year with Sunny Deol-starrer Bhaiyyaji Superhit. As much as she is upbeat about the return, the actor reveals that had it not been for her husband Gene Goodenough, she would have bid goodbye to films forever.
After walking for designer Sanjukta Dutta at the Lakme Fashion Week, Preity sat down with mediapersons to talk about her upcoming film and how her professional life only got better after marriage.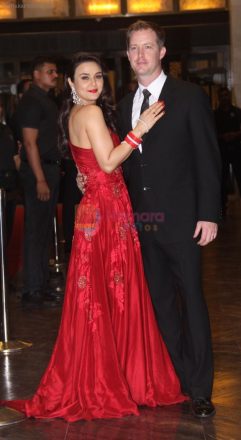 Your last film Ishq in Paris, which was also your maiden production, didn't do well at the box-office and you will be seen in a film after four years. Do you feel the pressure of a comeback?
I am not stressed because it is not my production! I think it is okay if you look at any actor, he or she has fallen flat with their first production. I am still proud of the film and I feel, you learn more from your mistakes than from your successes. This film is special because I have never played such an earthy character before. Till now, everybody used to say that I suit more western kind of roles. So, this is my revenge of the 'desi girl'.
You have juggled between films and business (IPL) in the past, but how difficult has it been managing work for the past one year, since you got married.
I am not the only one, there are millions of women who juggle between professional and personal lives. They are not celebrated because they are not actors. In fact, the toughest job in the world is to be a housewife. There's no appreciation, you have to work 24/7. But we professionals still get that gratitude from our workspace. Having said that, women, in general, are superwomen. They take care of the home and work. They are very few men who do that. For me it is very simple, I am married, working and very happy. I am lucky that I am married to a person who actually pushed me into doing a movie. I thought I didn't want to do any more movies and I moved to the business side of life.
You have been in the film industry for quite some time. Do you feel that it's only now that female-led films have started working?
I don't look at it like woman-centric or not woman-centric.To me, there is either a good story or a bad story. If you look at my first film, Kya Kehna, you will call it a woman-centric film. But it is just a good story told.
You judged the last season of celebrity couple reality show Nach Baliye, but we have heard that you are being replaced by Kajol. What do you have to say on this speculation?
I have just done one film, it is complete and I am very happy. Beyond that, I don't know anything. I have no clue (about Kajol replacing her). As of now, I am not doing anything other than Bhaiyyaji Superhit.