After wooing the audiences at Cannes with her roles in The Last Monk by Sudipto Sen and Nine Emotions (Navarasa) by Santosh Sivan, Rachana Shah is all set to surprise the audiences with her role as Kamini, Raja Ravi Verma's first muse in Ketan Mehta's Rang Rasiya.
Originally from the state of Madhya Pradesh, Rachna is B.E (Computers) from Pune Institute and is also trained in Kathak, Odissi, Bharatnatyam. But making inroads in Bollywood hasn't been easy for her. Ketan Mehta asked her to put on some weight before she was chosen for her role in Rang Rasiya. The go-getter Rachna then promised Ketan that she would put on some extra kilos for the character and she gained 7Kgs to get the role. She went in for extreme home work, studied Ravi Verma's paintings the delicate body movements of women from those times. Ketan was thrilled with the zest and signed her up for the film.
"I was extremely lucky to be playing this part, the film is extremely gripping and it was a complete make over for me. Ketan Mehta had already done a lot of research for seven years. He was clear about everything right from costumes to the looks and the body language in the film. We had to do a photo shoot complete with the make up, hairstyle and costume before we began shooting. In fact most of Raja Ravi Verma's faces were then change with our pictures. But I must say that this photo shoot helped us in understanding our characters better" says Rachna.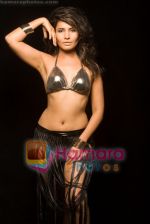 The film is shot in English and Hindi. "That was the most difficult part. We had to sound convincing in English too and it was the same for British actors who had to sound convincing in Hindi. Speaking about the director she says "Ketan is a lovable and kind gentleman. He is a complete contrast to the kind of films he does. There's no hierarchy in him. He just lets his actors go. He is the guiding force on the sets.
What next we ask this enthusiastic actress. "I am playing a negative role in Vashu Bhagnani's Kal Kisne Dekha. I have no dialogues in the film only action. It is a Matrix kind of role where I will be performing amazing stunts. I trained with Alan Amin and the action director of Ghajini. There will be lot of street kind of action. Then I am also doing Bapaditya Bandopadhyay's Housefull opposite Prasenjit, It is a black comedy and a film within a film. Bandhopadhyay's work has traveled all over the world. " reveals Rachna.