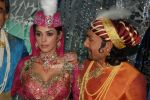 Mumbai, July 22 (IANS) Rahul Bose is at it again. Even before we could get over his smooching spree with Mallika Sherawat in "Pyaar Ke Side Effects", he's back at it in "Maan Gaye Mughal-E-Azam". "I've four kissing scenes with Mallika this time. Every time my director Sanjay Chhel was frustrated by my lack of talent, he asked me to kiss Mallika," Rahul told IANS.
Is there a direct link between Mallika and Rahul's kissing urges? "It's not as though we volunteered to kiss. It was a part of the story. Mallika isn't the only co-star I've kissed. I kissed Laila Rouass in 'Split Wide Open', Perizaad Zorabian in 'Mumbai Matinee'. And in Govind Nihalani's 'Takshak', I kissed Nethra Raghuraman.
"Lately, I've kissed Saba Azad in 'Dil Kabaddi'. So my kisses spread far and wide. Did I kiss Rinki Khanna in 'Jhankaar Beats'? I can't remember." That's quite a track record, almost a rival to Emraan Hashmi's reputation as a serial kisser.
"Thank you. I only aim to satisfy," laughed Rahul. "As for the second question, that's unfair to the other actor. Kissing on screen is always a gamble. It somehow doesn't come across as aesthetically as it should. So I'm not a great fan of on-screen kissing.
"However, I must say all the kisses I've done so far have been integral to the script, barring the one in 'Mumbai Matinee'." Rahul admits his interaction with Mallika on the sets of "Maan Gaye…" was relatively limited.
"In 'Pyaar Ke Side Effects', we were constantly together. But here there was a vast cast on the sets, including Paresh Rawal who's one of the most talented actors I've ever worked with." Doing straight-faced comedy comes easily to Rahul. But this is the first time he is doing this broad satirical kind of comedy.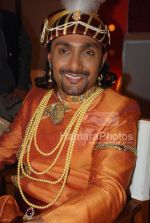 "Did I have fun shooting 'Maan Gaye Mughal-e-Aazam'? Let's get one thing straight. It's never fun to shoot. It requires a great deal of discipline and energy to make a film look like fun.
"I believe a film should be as light as a soufflé. And to make a soufflé isn't easy. But yes, the film is fun. Sanjay and I had a great deal of verbal jousting going on. We had this north Mumbai versus south Mumbai war going on. I kept ribbing him for being a Hindu fundamentalist. He kept teasing me for being a pseudo-secular."
Then Rahul reveals a secret. "Actually, I started my career as an actor on stage doing the kind of comedy I've done in 'Maan Gaye Mughal-E-Azam'. In the play 'Topsy Turvy', I did nine roles, all of them satirical. I always wanted to do the broad satire in cinema. So here I am."
The actor says he would love to do at least one film from every genre.
"I'm doing my first full-on action film in July. We're shooting it at Kuala Lumpur and Bangkok."
— By Subhash K. Jha