Salman Khan gifted Kareena Kapoor Rs. 2.5 lacs Dolce and Gabbana bag when the two were shooting for Main Aur Mrs Khanna in Australia. A source said, "Kareena would usually land up going shopping in the evenings after the shoot. She would go alone. But this time Salman accompanied her too."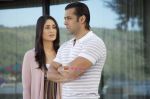 Kareena loved the Dolce and Gabbana handbag.
"She instantly stepped and bought it. When she was about pay the storekeeper, he refused saying it had already been paid. Kareena stood zapped and wondered who could be that generous soul. It was only later that she got to know that it was Salman who had paid. Well, it was his gift for Kareena from Salman. Kareena was very touched,"
said the source.