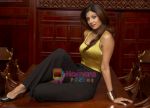 Nowadays, Shilpa Shetty is on cloud number 9, and yes who will not be. The amount of fame and respect she gathered through Big Brother was innumerable and certainly uncountable. Even the great actor Richard Gere could not keep himself from coming near to our very own Shilpa and then everyone knows what had happened.
The year 2009 seems to have been in Shilpa's favor. She along with her beau Raj became the owners of Rajasthan Royals, the team which had won the IPL last year. Shilpa and Raj are busy promoting their team these days. If one thinks that Shilpa is also a cricket fan like Shah Rukh then you are wrong. In her recent interview she did not miss clearing why she was a part of IPL. "I am not here for any business acquisitions, I am here to add the glam quotient in IPL" is what she said.
Shilpa also didn't forget to mention that she will not act lousily and will not be see cheering like the cheerleaders. She says that should not be something which people are expecting from her.
And then the latest of the all, Raj finally proposed to Shilpa on Valentines Day. Shilpa was seen flaunting a big diamond ring. There is also a strong buzz that the couple will be tying the knot this year itself. – wait and watch.