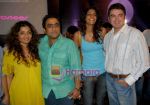 The Masoom moppet has surely come of age. Jugal Hansraj who recently directed Yashraj Films' first animation film Roadside Romeo , is all set direct his first feature film for Yashraj Films.
Not surprisingly it would feature the younger scion of the Yashraj empire Uday Chopra who's currently gone into an impenetrable shell after Arjun Sablok's wacky and rauchy Neil 'N' Nikki failed to do the trick for Uday.
It's hoped that Jugal and Uday's real-life friendship would help give an extra edge of excitement to the love story.
It must be remembered that the two friends started their careers together as leading men in Aditya Chopra's Mohabbatein. Ever since then Jugal has become an integral part of Ysah Chopra's extended family.
Says a source, "Aditya Chopra is extremely fond of Jugal. He has given him roles in Hum Tum , Aaja Nachle and several other Yashraj films and also encouraged Jugal to turn director. Now when the family is concerned about Uday's career Aditya has given Jugal a chance to resurrect his brother's career."
The film to be launched early next year will be a very unusual love story.
Says a close friend of the Chopras , "Yashraj are done with the conventional. They're also quite exhausted with giving chances to ungrateful directors who make their first few films for the banner and then move on without a by-your-leave. Now Aditya Chopra is looking at doing path-breaking work with directors who would grow with the Yashraj empire and not just use the banner as a steppingstone.Even the film that Aditya is currently directing(Rab Ne Bana Di Jodi) is far from conventional. It's very audacious to cast Shah Rukh Khan as a bespectacled scooter-riding smalltown workingclass hero at a time when Aamir and the other Khans are selling muscles. Adi is confident that Shah Rukh will be embraced by his audience in Rab De just as he was in Chak De."
Jugal Hansraj's love story with Uday Chopra in the lead requires an ultra-glamorous leading lady. Apparently Kareena Kapoor, Priyanka Chopra and Deepika Padukone have been approached.
When contacted Jugal Hansraj replied, "It's too early to talk about the film. It's still in the planning stage. I'll talk about it once everything is in place."
By Subhash K Jha