Vidya Balan visits Sonam Kapoor on the sets of Neerja on 17th May 2015.
Sonam Kapoor was recently in for a pleasant surprise, when Vidya Balan visited her on the sets ,while shooting for the Neerja Bhanot biopic. Vidya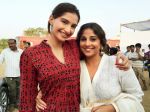 who dropped in to meet the producers of the film and director Ram Madhvani, also met with Sonam to wish her luck, as the two spoke at length about the film.
Says a source, "Sonam was really happy with Vidya's gesture and the fact that she travelled to the outskirts of Mumbai to wish the team luck. Vidya spent a considerable amount of time on the sets, watching the shoot and offering her feedback".