Anything for fans seems to be Amitabh Bachchan's mantra. In an upcoming episode of game show "Kaun Banega Crorepati" megastar Amitabh Bachchan will meet his die-hard fan Kusum Kaura and will be seen dedicating the popular song "Kabhi kabhi mere dil mein" to her.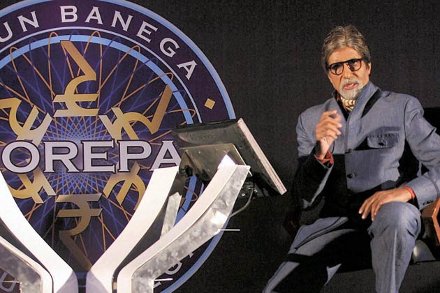 Kusum Kaura from Sikandarabad, Uttar Pradesh, said that she always pictured herself in the place of the actresses who were paired opposite Amitabh Bachchan in his films and how upset she was when Amitabh Bachchan married Jaya Bachchan.
After learning of her love for him, the 71-year-old star created a romantic atmosphere on the set and dedicated "Kabhi kabhi mere dil mein" to her. Amitabh Bachchan also gave her a 'jadoo ki jhappi' (a hug) and wished her good luck for the future.
Overwhelmed with all this Kusum Kaura said that this was her Rs.7 crore jackpot and a lifetime memory.
The episode featuring Kusum Kaura will air Saturday on Sony Entertainment Television.