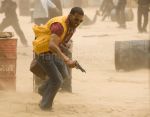 New Delhi, July 6 (IANS) Jumping from choppers, facing fires and hanging from tall buildings – "Fear Factor-Khatron Ke Khiladi", hosted by Bollywood action hero Akshay Kumar, has helped its star contestants face their biggest fears. "I'm extremely scared of heights, and in this show I've done bungee jumping, and now I am relatively less scared. It was a great experience," model-turned-actress Dipannita Sharma told IANS.
"I've seen such humungous cockroaches and lizards … now I don't think that the old creepy crawlies in my house will ever scare me," said Dipannita, who was here for the show's launch. The actress, who has worked in movies like "My Brother Nikhil" and "16 December", was also scared of spiders earlier, but now she feels she has overcome that fear too.
The American original "Fear Factor" was a game show that took reality shows to new exciting highs. The Indian version with Akshay is set to air on new entertainment channel Colors July 21. It is to be telecast on weekdays at 10 p.m. Another contestant Urvashi Sharma, who made her debut with "Naqaab" opposite actors Bobby Deol and Sunny Deol, revealed that she won the maximum number of points on the show because she had no fears.
She said: "We were made to play with animals and insects … and I hate animals, I don't like to be around them, but I don't fear them."
For Anita Hassanandani, who is to play the role of Draupadi in Ekta Kapoor's "Kahani Hamaare Mahabharat Ki", "Fear Factor" has truly been a learning experience. "The first stunt on the show was a water stunt and I don't know how to swim. It was really scary!" she exclaimed. "Now I will be taking swimming lessons since I have realised how important it is to know how to swim."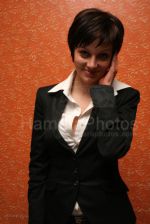 The show will feature 13 models and actresses including Yaana Gupta, Aditi Gowitrikar, sisters Tapur and Tupur Chatterjee, Pooja Bedi, Sonali Kulkarni, Anita Hassanandani, Meghna Naidu, Nethra Raghuraman and Vidya Malavde. Asked who among them was the bravest, the girls promptly took two names – Yana and Urvashi.
"Yana was absolutely fearless," Dipannita said.
Item girl Meghna Naidu, who was also present at the event, agreed with Dipannita. "Yana was not afraid of anything. She was very brave," she said.
— By Rishabh P. Nair