New Delhi, July 13 (IANS) Talented singer Debojit Saha has come to terms with being eliminated in STAR Plus' toughly fought "Jo Jeeta Wohi Superstar" music reality show contest, but says he is a little sceptical of the voting system. "As far as I know, I had got the highest votes in the fourth week. But I don't know why I failed to win," Debojit told IANS over telephone from Mumbai.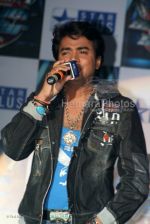 "I had got good marks from the judges and I was even leading with the highest votes in the fourth week. Then how did I suddenly lose?" asked Debojit, the winner of Zee TV's show "Sa Re Ga Ma Pa" in 2005. He added that he would not be doing any more reality shows.
"Initially, I didn't want to go for 'Jo Jeeta…' because I don't like the entire public voting system. I don't like begging for votes on air. Now I will be concentrating on playback singing only," Debojit said. But Debojit feels that there has been a marked improvement in his singing style after his tryst with reality shows.
"I got eliminated from 'Jo Jeeta…' last week but there has been a lot of improvement in me. Now people the world over appreciate my singing," he said. He says the appreciation he has received from audiences is reward enough for him. "I have been getting good reviews from people and my fans keep e-mailing me. They tell me that according to them I am still the winner," said Debojit, who hails from Assam.
After winning "Sa Re Ga Ma Pa", Debojit got the chance of hosting the regional version of the same show on Zee TV Bangla. He returned to reality shows as a participant in "Jo Jeeta Wohi Superstar", where the winners and runners-up of previously held talent hunts across channels competed with one another.
He also has no regrets at having chucked a cushy job as civil engineer to pursue his dream to become a singer. "I always wanted to be a singer and that is why I left my job in the PWD. Now, even my wife, who was working as a fashion designer in Kolkata, has left her job," Debojit said.
And despite being voted out of the show, he stands by his decision. "Had I not left my job and taken up singing, I would not have been as satisfied as I am right now. I love singing!" he said.