Rahul Bose also known as 'the thinker's actor' is all set to carry the Marathon Torch for the Mumbai Marathon Relay on January 17.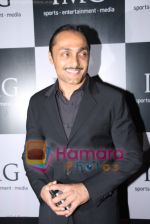 The Honorable Mayor of Mumbai Smt. Shraddha Jadhav along with John Abraham will kick- off the Marathon Flame Run from the International Airport.
The Marathon Flame torch relay starting from Wilson College will be then carried by Rahul Bose as well as others like Dhanraj Pillai, Tara Sharma, Gul Panag and Milind Soman to destination Hutatma Chowk where the lighting of the flame will take place.
For the Mumbai Marathon 2010- Rahul Bose who was the ambassador for the Mumbai Marathon up till 2003 will also run with Konkana Sen and six other children from Andaman for The Foundation to support the cause of 'Little Dreamers'- an initiative dedicated to educating children with learning difficulties.
Reveals Rahul Bose, "My aim with 'Little Dreamers' is to eradicate the line of distinction and discrimination between those fortunate and those with learning difficulties."
Rahul Bose- the philanthropist, actor and citizen has lived in Mumbai, hoped for Mumbai, prayed for Mumbai, worked for Mumbai and now will be running for Mumbai.