Aamir Khan, who turned 49 Friday, is happy with the way his Bollywood career shaped up last year courtesy "Dhoom 3". He has planned to dedicate all his time in 2014 to his social issue-based TV show "Satyamev Jayate". Besides one Hindi movie, Rajkumar Hirani's "Peekay", which is slated for release on Christmas, Aamir has no other film lined up.
Talking to reporters at his residence, where he celebrates his birthday with media persons every year, Aamir said:
Last year was great. I was happy with the success of 'Dhoom 3', and I was glad that all our hard work paid off.

This year, I am dedicating all my time to 'Satyamev Jayate'. Only Raju's 'Peekay' will release towards the end, but there's no other film. So, my whole year is for the show.
"Satyamev Jayate" is a platform where Aamir brings socially relevant issues to the fore and discusses startling facts about them. He said the show's telecast has been divided into three parts this time. Of the four episodes that were slated for March, two have already been aired.
We will return with a few episodes in July, and then we will come back with some episodes in a month towards the end of 2014.
During the second season, he has so far raised his voice against 'rape' and 'police'.
When curious media persons asked him about the issues he will raise in the forthcoming episodes, he said: "We don't tell the issues."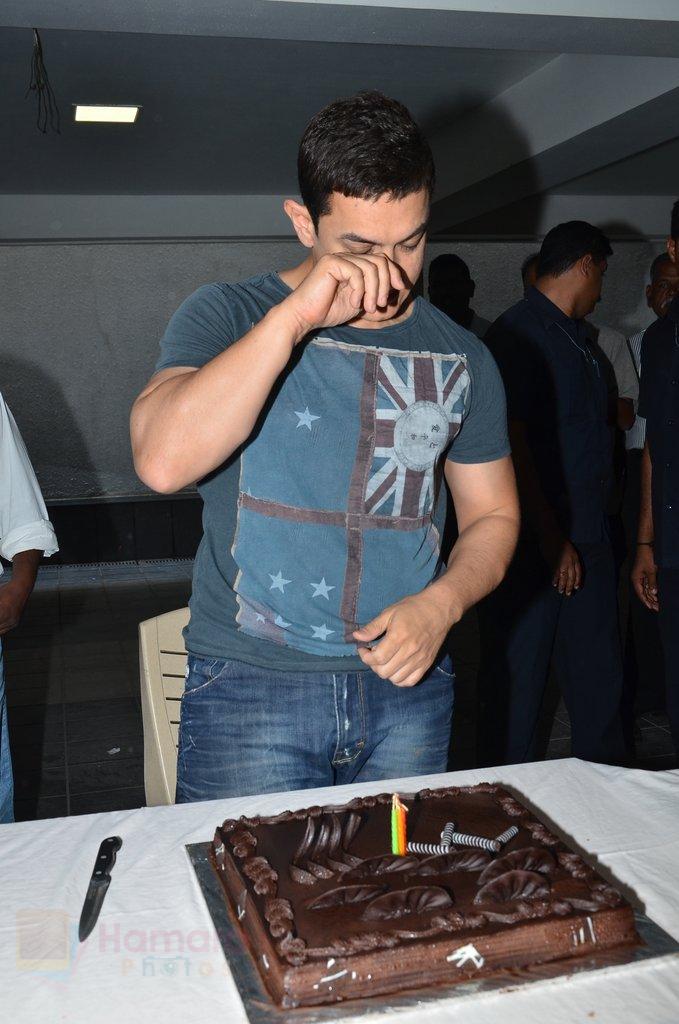 Recently, Aamir had to register a complaint with the Mumbai police in the wake of a defamatory campaign against him on a social networking website.
Lamenting such defamatory acts, he said:
It makes me sad when people do good work and then people react this way. Such people are less in number, but they are trying to spread rumours about me via social media.

Social media is also such where people can spread any information anonymously. I feel sad. I am trying to do my bit, but I know our janata (people) know what's true. They have been seeing me and my work for 25 years. They know what's right.